These wedding bands in platinum, are embellished with round brilliant diamonds, and a touch of fine polishing. The ring display elegance and beauty, making them the best choice for many. It features a sparkling row of diamonds which make it more unique and gorgeous. These wedding bands are appealing and eye-catching.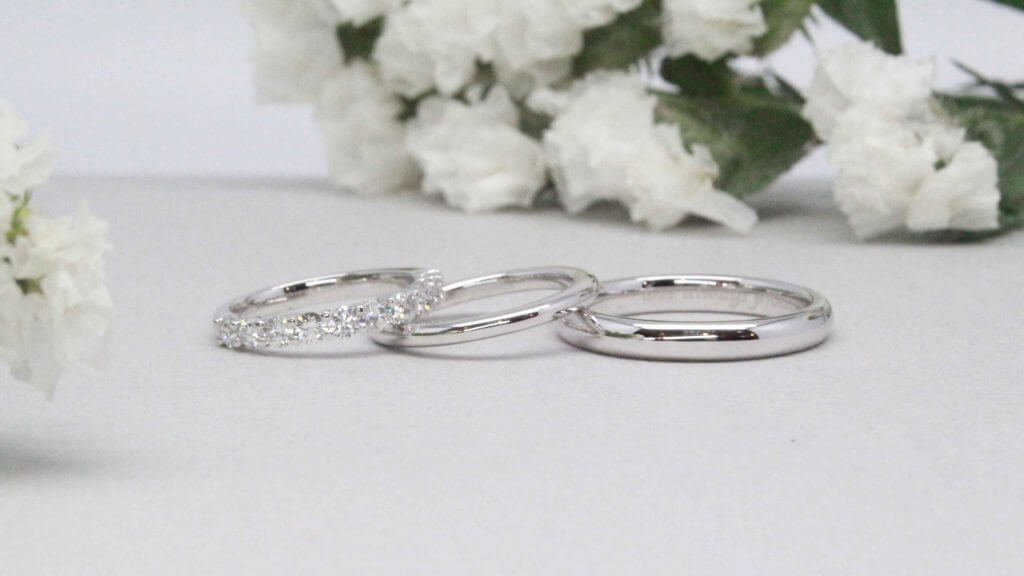 Platinum PT950
Platinum rings are the obvious choice for many, from platinum engagement ring to platinum wedding bands. Not just because of its durability and sheer elegance but also because of its purity especially when compared to its perceived counterpart—"white gold." The white gold is only 75% gold(maximum gold content with a well balance in strength), Platinum rings, on the other hand, have about 95% purity. The advantages of these are:
Platinum are in silver-white colour, usually with scratches you do not notice the obvious difference in colour shade. As compared to white gold which is pale yellow in colour, when the rhodium plated is off, the yellow shade become visible. Especially on the bottom part of your ring, where its prone to wear and tear.
Platinum does not tarnish, which makes it the perfect metal for a wedding ring which is intended to be worn every day for a lifetime.
Platinum is not only pure and durable, but it is also one of the rarest metals which assures that the value would not be depreciating any time soon, which will probably increase shortly. As compared to 18k (750) white gold, platinum is usually priced at a premium of 20% – 30%, as they are much durable and tougher to work on.
Platinum is more dense as compared to gold ring. You will feel an obvious difference in weight comparing the both metal. Giving you are much solid and heavier feel on your finger. This additional weight contributed to the premium in price too.
Customised Wedding Bands
Could not make up your mind in platinum or white gold ring? In GIOIA, all design of wedding bands is made possible, explore yourself to the wide range of possible designs. It can be a non traditional wedding band, with coloured gemstones or a mixture of gold colour shade, black gold? Custom made your own perfect wedding bands with your story today!