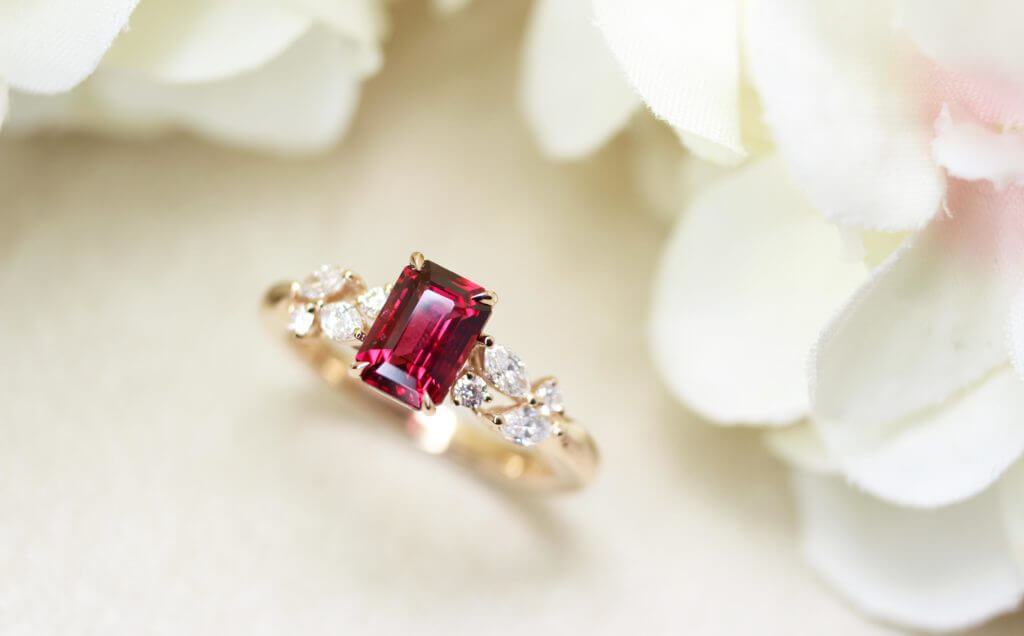 This lovely piece of jewellery features a red spinel as its prime gemstone. Though it has a simple arrangement, the ring has an overall elegant appearance nonetheless. The vivid spinel amplifies the outward look. Held firm by the four-prong setting, the spinel gemstone resides flamboyantly in the center. This ring parallels a token of love and intimacy by the couple. The gentleman selected this spinel gemstone for his wife's birthday as a surprise present. The couple's demands in customisation were fulfilled by our designer in GIOIA and skilled craftsmen, who brought out the grace in this subtle design.
Customised Jewellery
Rather than having a classic halo setting of diamonds, the couple decided onto a simple placement. The marquise and round diamonds on the sides play their part by drawing the onlookers towards its possessor. These diamonds not only highlight the spinel but also provide a soft glimmer to the ring. In order to heighten the warmth in this ring, it was set in 18k(750) rose gold. All elements in this customised ring produce a delicacy, reminding the woman of her own precious relation.