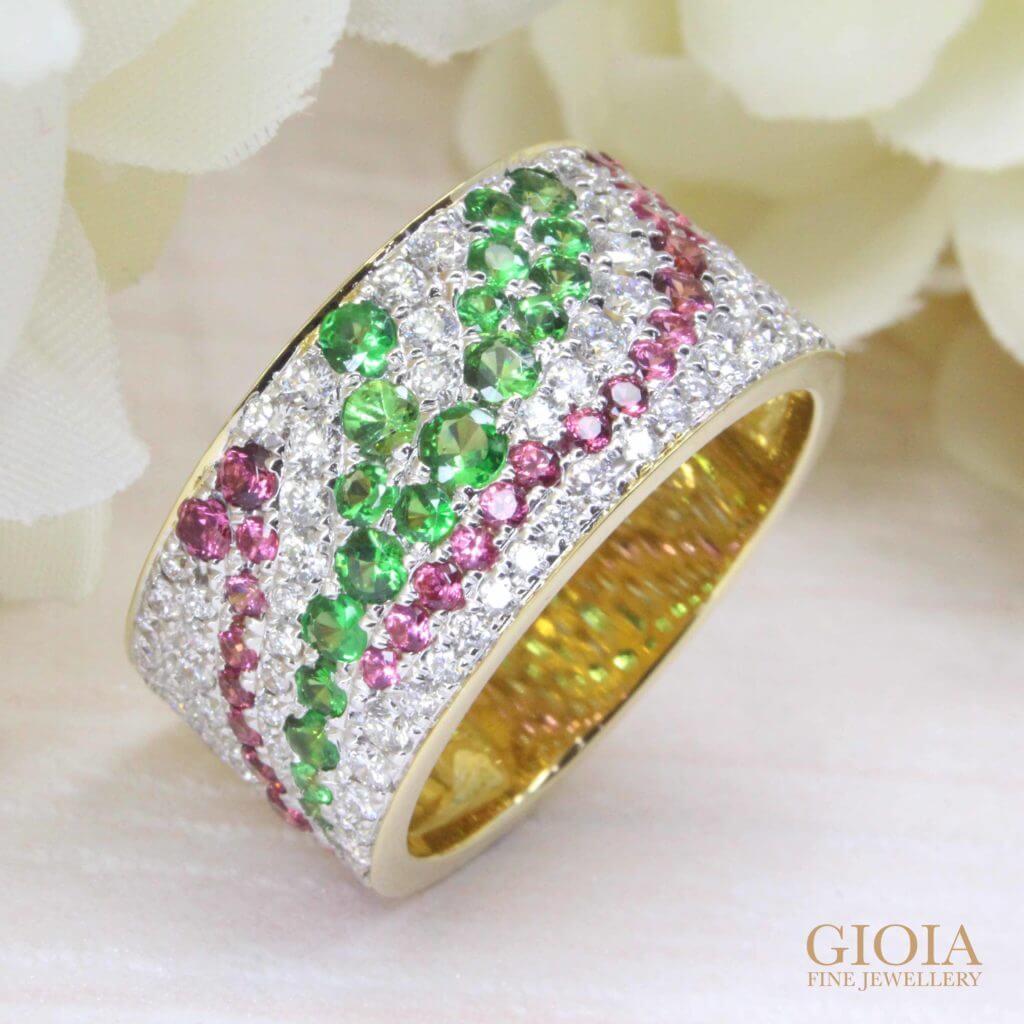 An astounding 20th years wedding anniversary gift from a gentleman to his lovely wife. This customised ring is one of a kind design from sketch. Aurora inspired anniversary ring, composed in a way that will remind the lady of northern lights in Alaska. A memorable place where they used to lived, to have a flash of sweet memories made there.
The gemstones consist of tsavorite and pink spinel, epitomize a unique story behind the composition of this present. To mark the 20-year anniversary, the man personalized this anniversary ring with 20 pieces of Tsavorite gemstone.
Personalised Anniversary Gift
One of a kind Aurora Inspired Anniversary Ring
The vivid pink mahenge spinel is a rare and unique gemstone that only occurs in a few places such as Tanzania and Madagascar. Since its discovery, people have known the gem for its intense colour compositions and high transparency. A British prospector discovered it in the mountains of Tanzania, and since then, it has piqued the interest of geologists for trading this precious gem.
Paralleling the rarity of Tsavorite, the affection found in the ring as a gift is immensely exclusive. A perfect blend of pink and green shade from the gems, resemble the natural light display of colourful aurora in the sky.
Customised Jewellery
With movement restriction and less travelling opportunity during this covid pendamic. There are many interesting and beautiful places that we miss going. Customised jewelley allow us to design inspiring jewellery such as this anniversary ring, or eiffel tower ring. There is no limit to our imagination, engagement ring or everyday wear jewellery can be custom made to your preferred design and style.
Coloured gemstone can be use to design the jewellery, from birthstone gem to differet colour hue and shade. It certainly give a personalised touch to the statement jewellery.