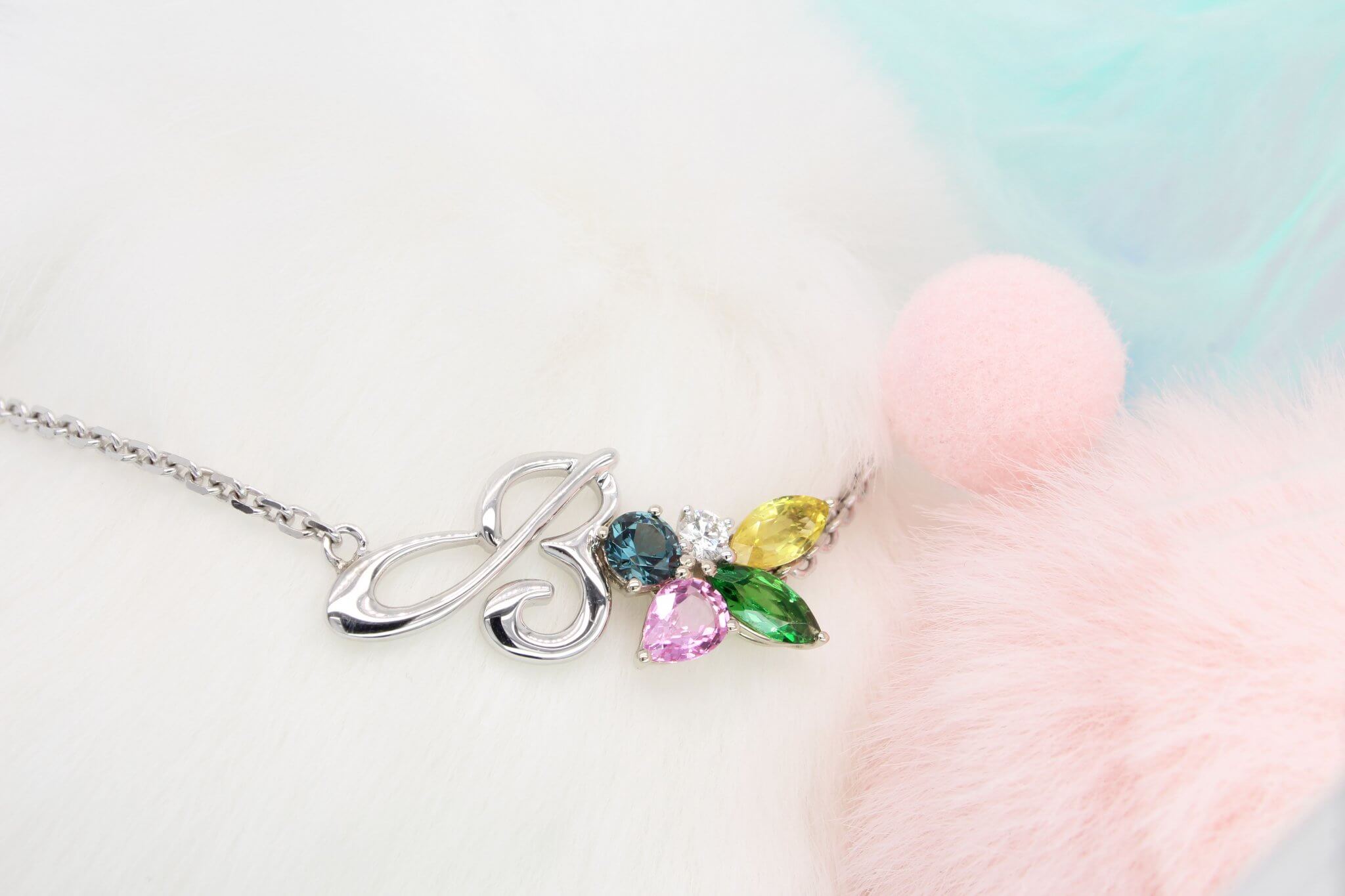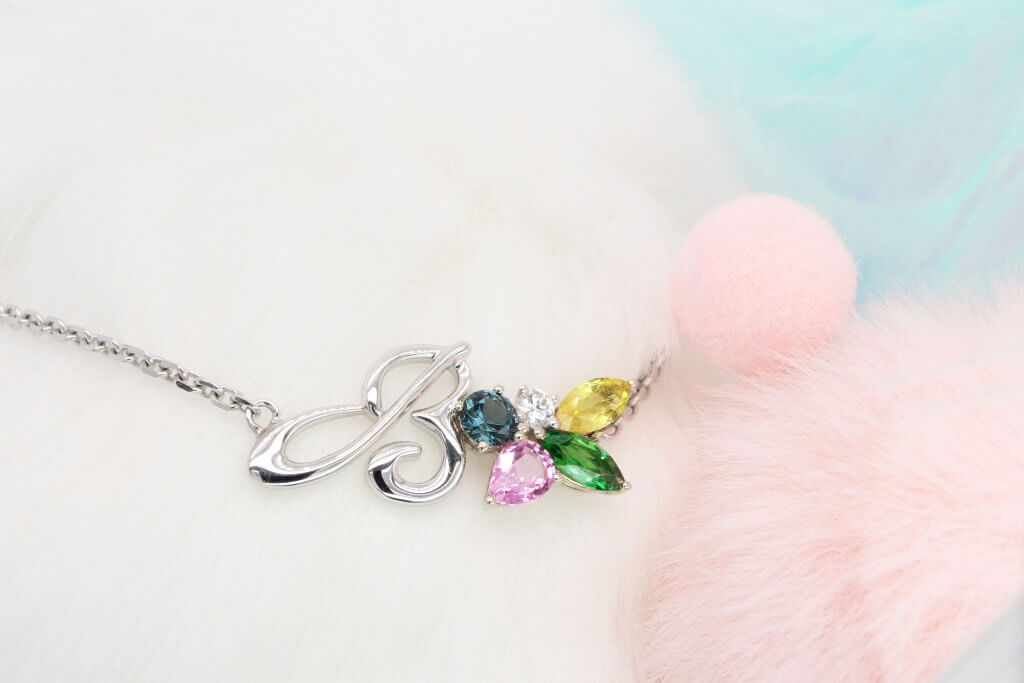 Personalised Family Birthstone Jewellery Bracelet
Modern Heirloom Jewellery with Family Heritage
Bespoke bracelets with coloured gemstones make a universal family birthstone jewellery piece. Both men and women can wear their choicest birthstone in the form of bracelet jewellery. Unlike rings on the finger, bracelets or bangles adorn the wrists as well as the upper arm. For Men, perhaps a solid bangle designed in muscular look with personalised birthstones of family.
Seeking a bracelet with rare and unique gemstones connected to your zodiac sign and birth month? This appealing bespoke bangle design definitely fascinates you. Personalised designed with an abstract "B" initial of the wearer. A playful mix of coloured gemstone and diamond beautifies the overall look.
This design exclusively creates in 750 18K white gold, studding it with multiple precious stones. Multiple gemstones such as Spinel, Sapphire, and Tsavorite garnet, are individual family birthstones. The sleek chain sits pretty on the edges of the centrepiece, threading it securely from both ends to make a stunning ornament to deck up your wrists with panache.
Family Birthstone
To craft this stellar masterpiece, our designer skillfully arranges the birthstones into a floral design. In addition, designed with an open cuff, the bracelet boasts a minimalist aesthetic, ensuring effortless wearability. Furthermore, if you're in search of an exquisite piece of fine jewelry featuring a cluster of family birthstones, this exquisite bracelet, with its intricate design and vibrant gemstones, is the ideal accessory for any festive occasion.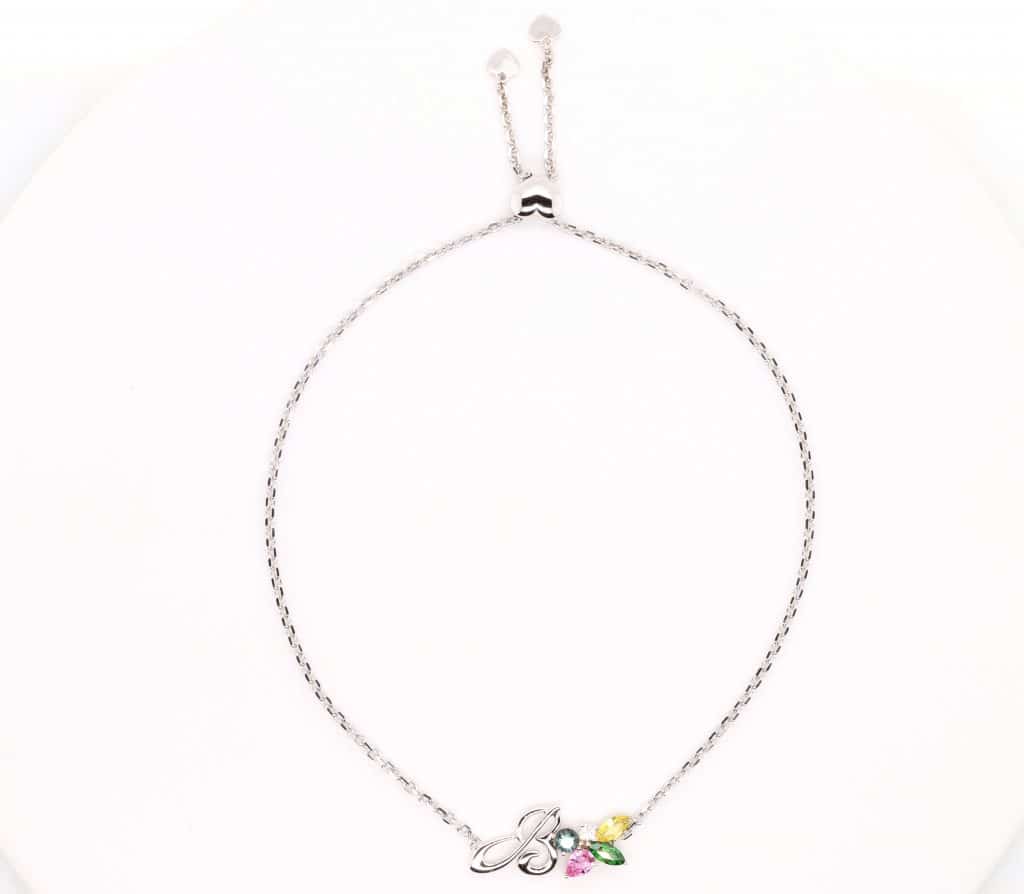 This bejewelling bracelet can be customized in every little way. From getting the right size for your wrist to handpicking the gemstones of your choice. You can get a bespoke designed bracelet suited for all occasions. Be it a wedding gift for your beloved fiancé or for your mother's birthday, this outstanding family birthstone jewellery ensemble is a timeless piece to gift and own.
Bespoke Birthstone Jewellery
If you like to sport a bold look, you can get the piece curated to your preference. From flaunting a thick band on your writs to sporting it as an elegant armlet, this bespoke jewellery can be moulded to your taste. You can get the initials of your name engraved on this family birthstone bracelet to elevate the sophistication of this signature piece.
Crafted in rose gold, the family birthstones surround the moonstone. The birthstone for the month of June can also be an alexandrite gem. The filigree work complementing the birthstone gems is representative of fine vintage jewellery. Certainly, one-of-a-kind bespoke gemstone jewellery to be passed on as an heirloom piece for generations ahead. The elaborate design dribbles grace in every inch of its lace-like filigree design. Round brilliance diamond add sparkles to the ring, like stars in the night.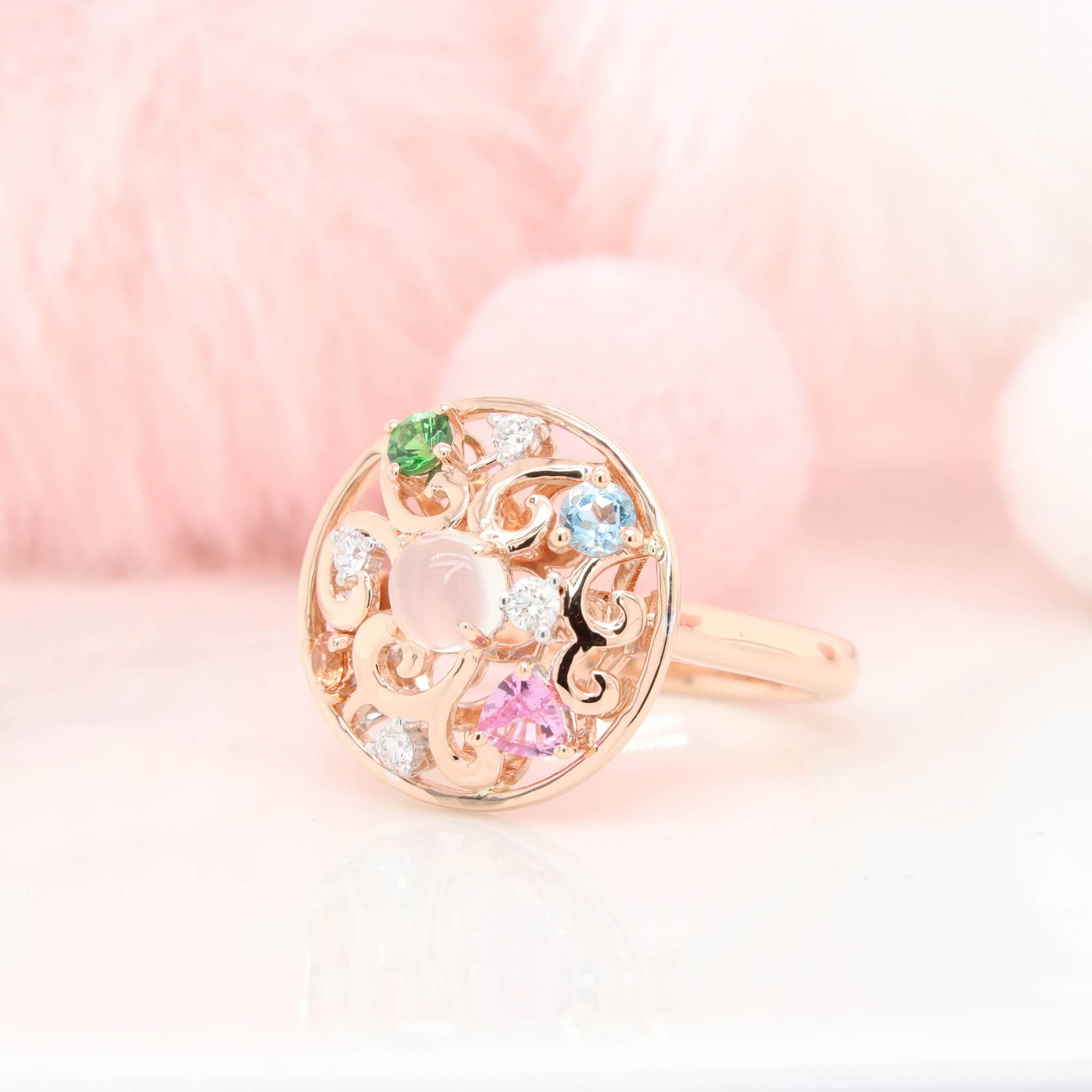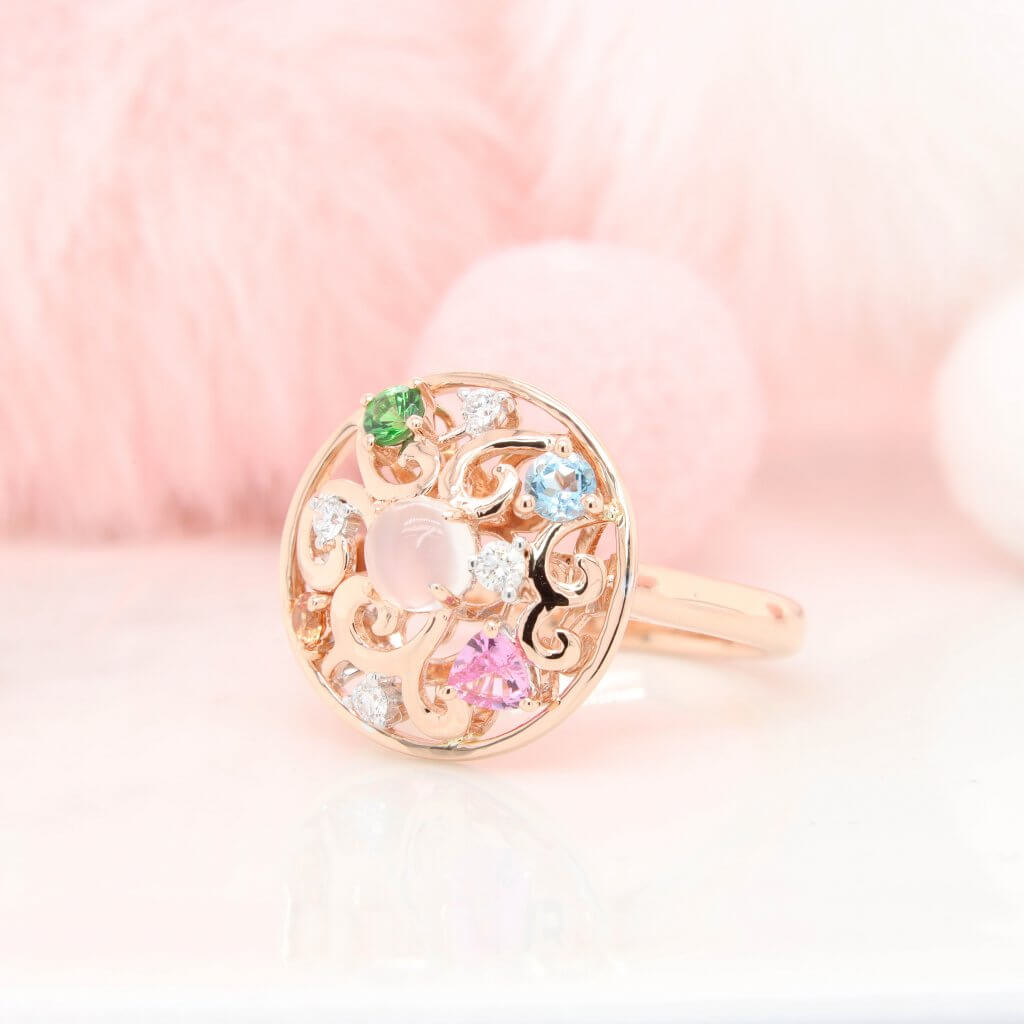 Abstract Birthstone Jewellery Design
Angle Inspired Earring with Family Birthstone
Different family birthstone cluster jewellery from necklaces, bracelets, and rings to earring jewellery. Features an angle inspired earring stud, the abstract design gives a modern chic. It consists of blue sapphire, mint tourmaline and diamond, representing the family members' birthstone. Easy to wear fashionable style allow the mother to wear it on daily basis and on casual meetup occasions.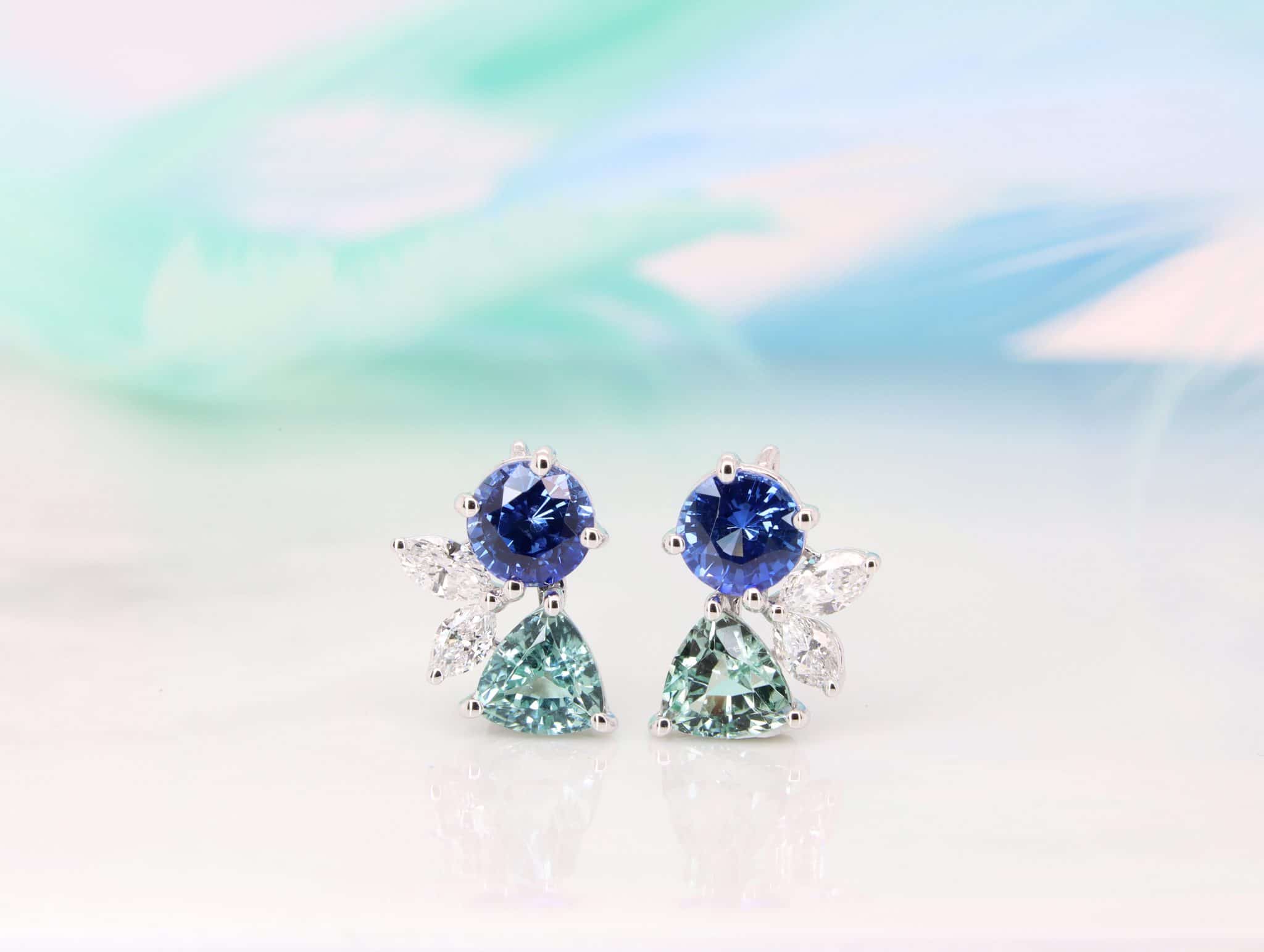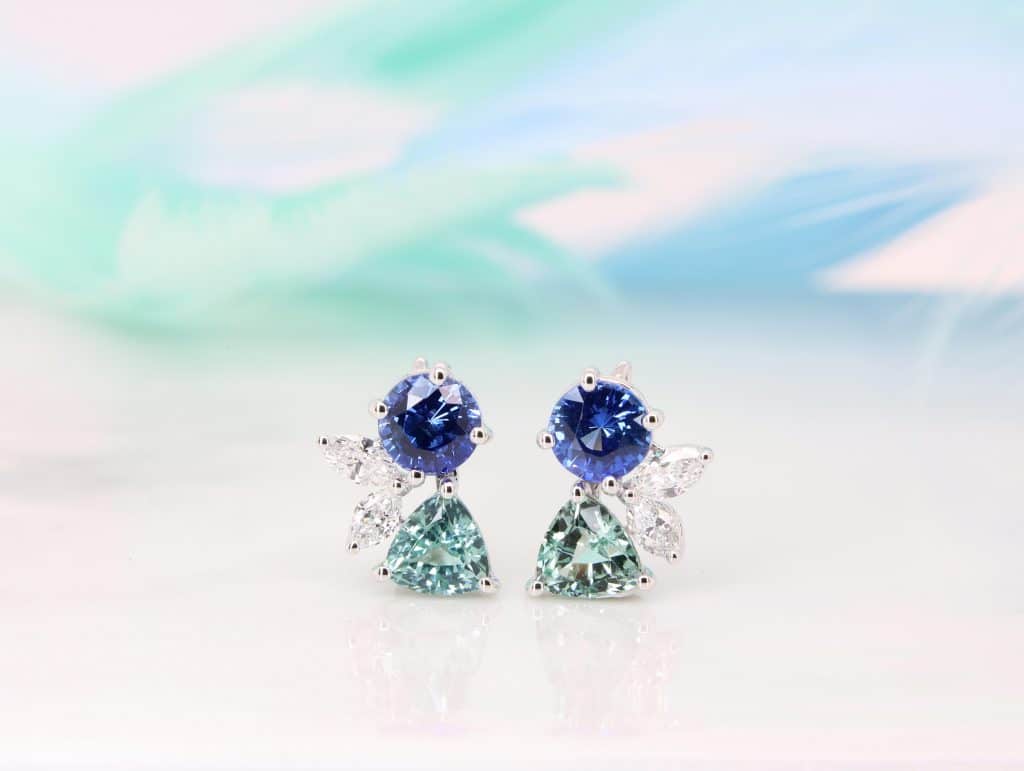 Floral Inspired Ring with Family Birthstone
Featuring a lagoon bluish green tourmaline in pear shaped, cluster design with family birthstone. Beautifully created with unique fancy shaped from octagon spinel, kit-shaped (diamond-cut) amethyst to marquise and round brilliance diamond. 
Design of family birthstone jewellery can range from timeless elegant style to modern trendy jewellery. However, certain gemstone might crash in colour combination due to its natural shade. Shapes of certain birthstone might not be as common nor technically possible to achieve. At GIOIA, we have different range of coloured gemstone or alternative which best suit your preference.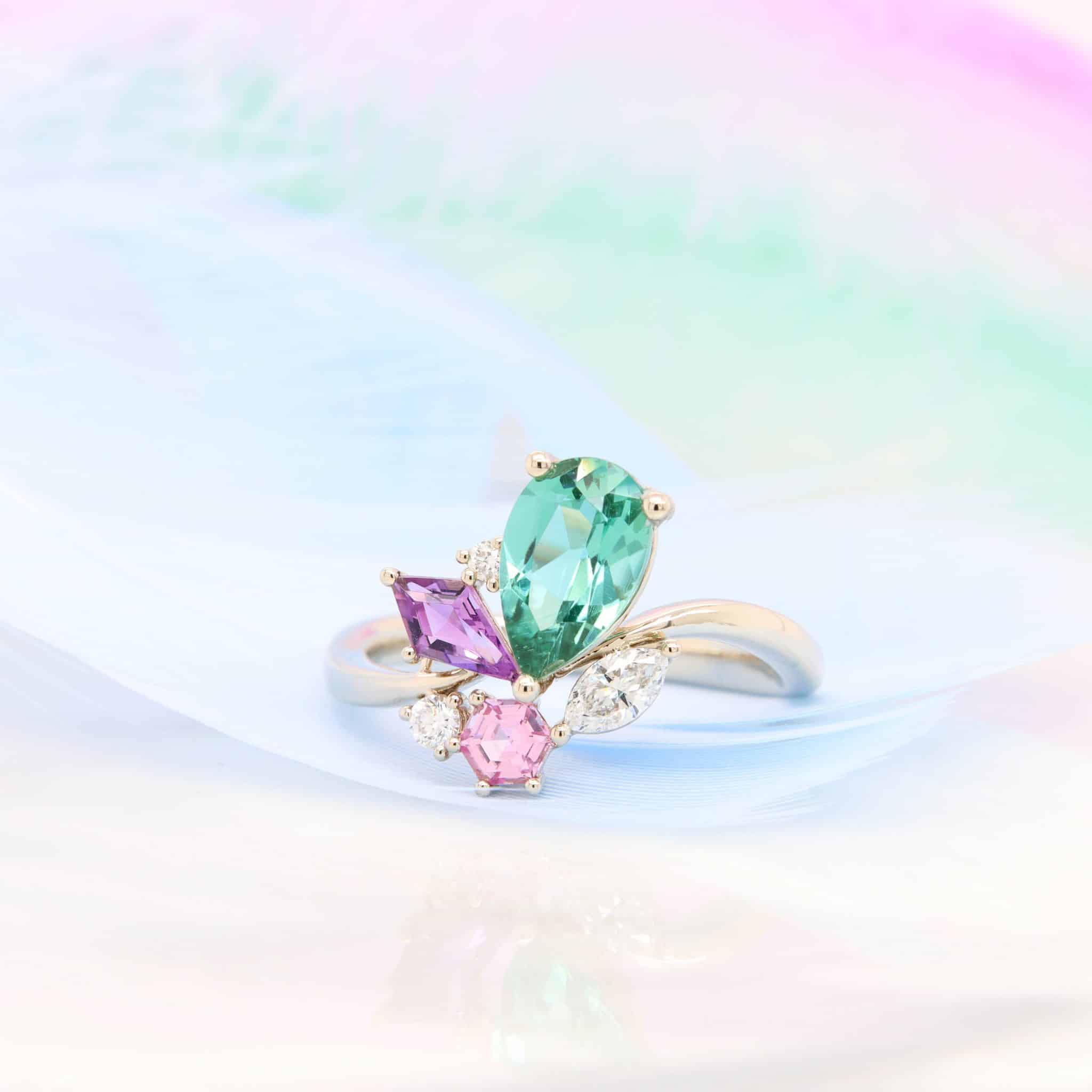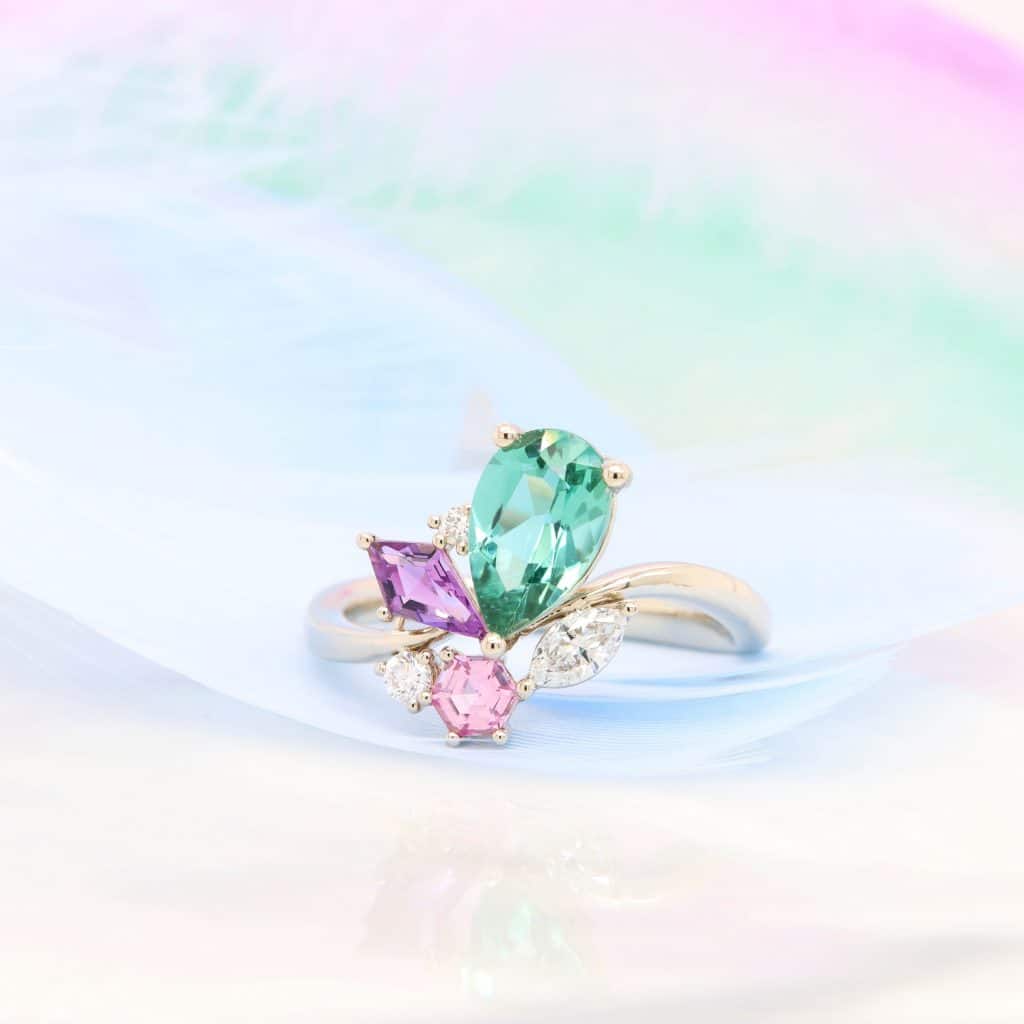 Heirloom Jewellery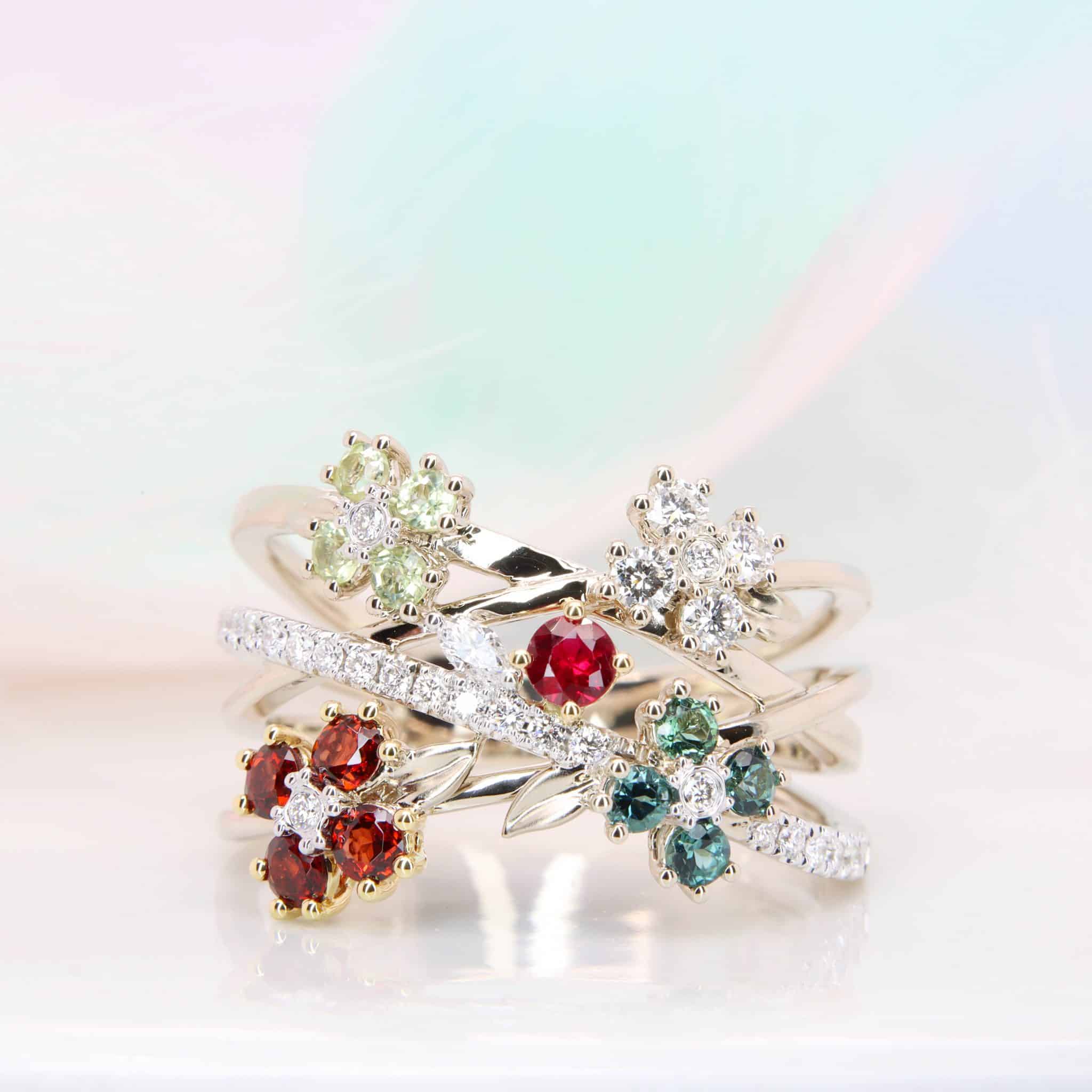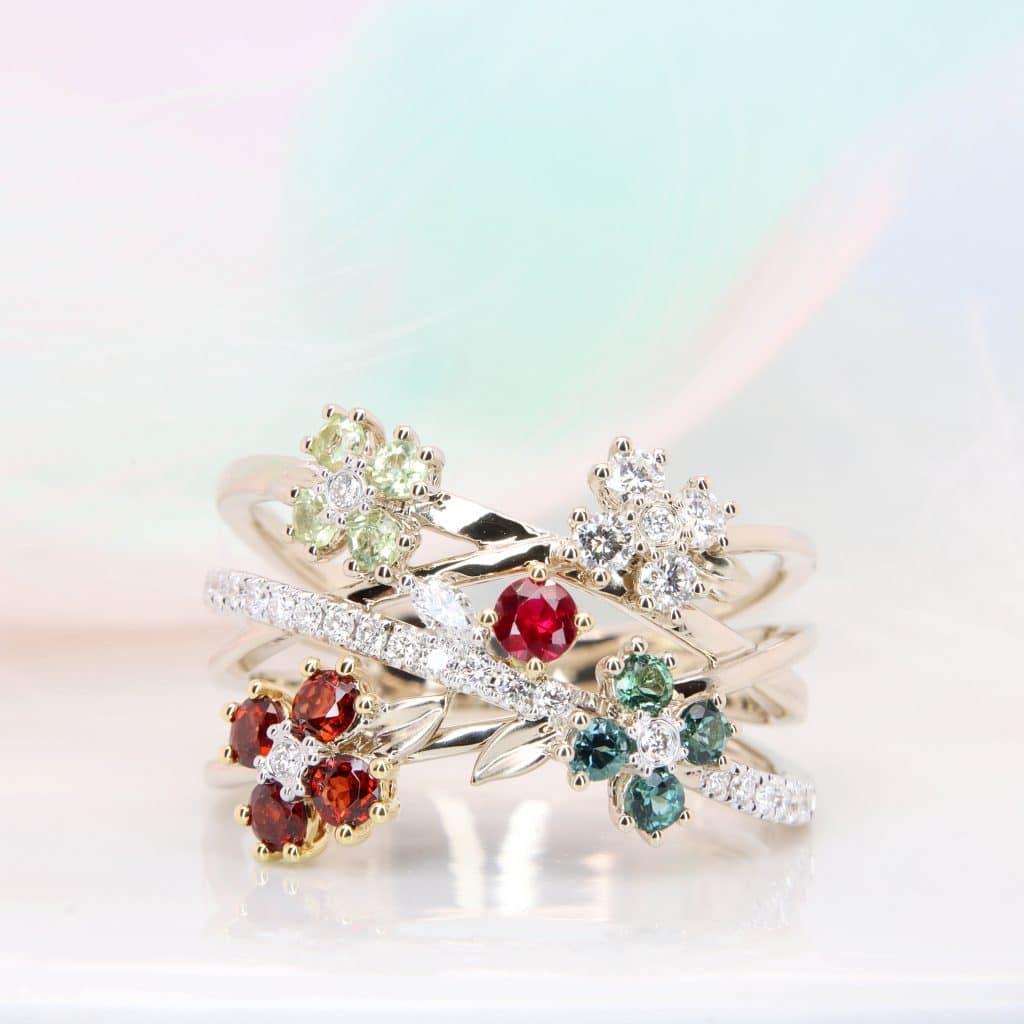 Blossoming Legacy: Heirloom Birthstone Ring that Chronicles Your Family's Story
At the heart of this heirloom ring are the birthstones of each cherished family members. Each gemstone is carefully selected to represent a unique bond and connection. Ruby for the month of July, symbolising love and passion, garnet for the month of January, signifying trust and friendship. Tourmaline for the month of October, a stone of healing and protection. Peridot for the month of August, the gem of harmony and vitality. Last but not least round brilliance diamond representing the month of April. Combination of the birthstones representing the everlasting bond that ties your family together.
These gemstones harmoniously come together in a dazzling display of colours, creating a captivating mosaic that mirrors the diverse yet unified nature of your family. Crafted with meticulous attention to detail, it features delicate floral and leaves motifs that evoke the feeling of strolling through a serene botanical garden.
Interwoven Family Bonds
The design of this family birthstone jewellery is a work of artistry in its own right. Moreover, multiple connecting bands gracefully interweave, symbolizing the intricate connections within the family. Just as the threads of life's experiences bind you all together, these bands artfully crisscross, thus creating a mesmerizing visual representation of family's unity.
An Heirloom for Generations
Beyond its visual splendor and intricate design, this heirloom birthstone ring is a timeless piece of fine jewelry that is destined to become a cherished family heirloom. As the years pass, it will bear witness to countless milestones, celebrations, and the enduring love that binds your family together. Passed down from generation to generation, it will carry with it the stories and memories that define your family's unique journey.