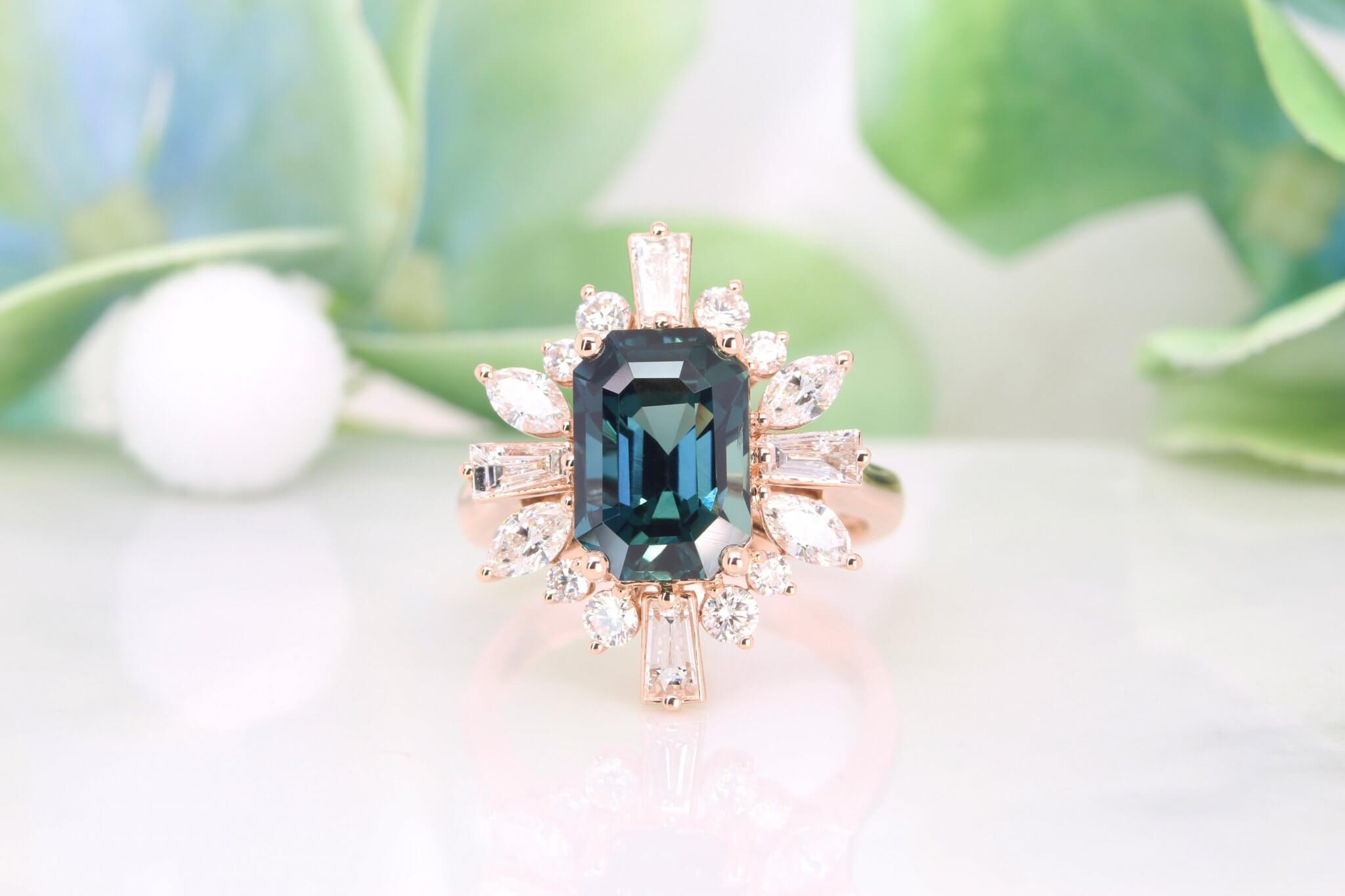 Allow her to skirt her panache! That's the dancing thought that this dazzling ballerina designer ring leaves you with. Crafted with a unique bluish green piece of precious teal sapphire, this is an alluring piece of ballerina jewellery you'll instantly add to your list of prized possessions for sure.
Ballerina Jewellery Design
This vintage ballerina inspired jewellery piece, is indeed to claim its well-deserved space into your treasure cove.
Inspired by beauty, this ballerina jewellery creation can make an enthralling bequest. This eye-catching vintage style ring is certainly coming back into fashion with its bold and outstanding appearance. So, if you are looking for that perfect ornament to compliment your special outfit, you can slip this Ballerina sapphire ring into your fingers with closed eyes.
The unheated teal sapphire in octagonal shape symbolises a woman's strength and balance, while the diamonds embedded around it represent the charming dancer twirling elegantly in her 'tutu skirt'. The marquise eye-shaped diamonds in combination with the rounded splendours and long-stemmed shimmering diamonds intermittently cross paths. The fancy shapes diamonds resemblance a halo design surrounding the exceptional teal sapphire gracefully. It is the asymmetry that lends a character to the unpredictable yet steady and stylish ballerina to tip-toe in her glory.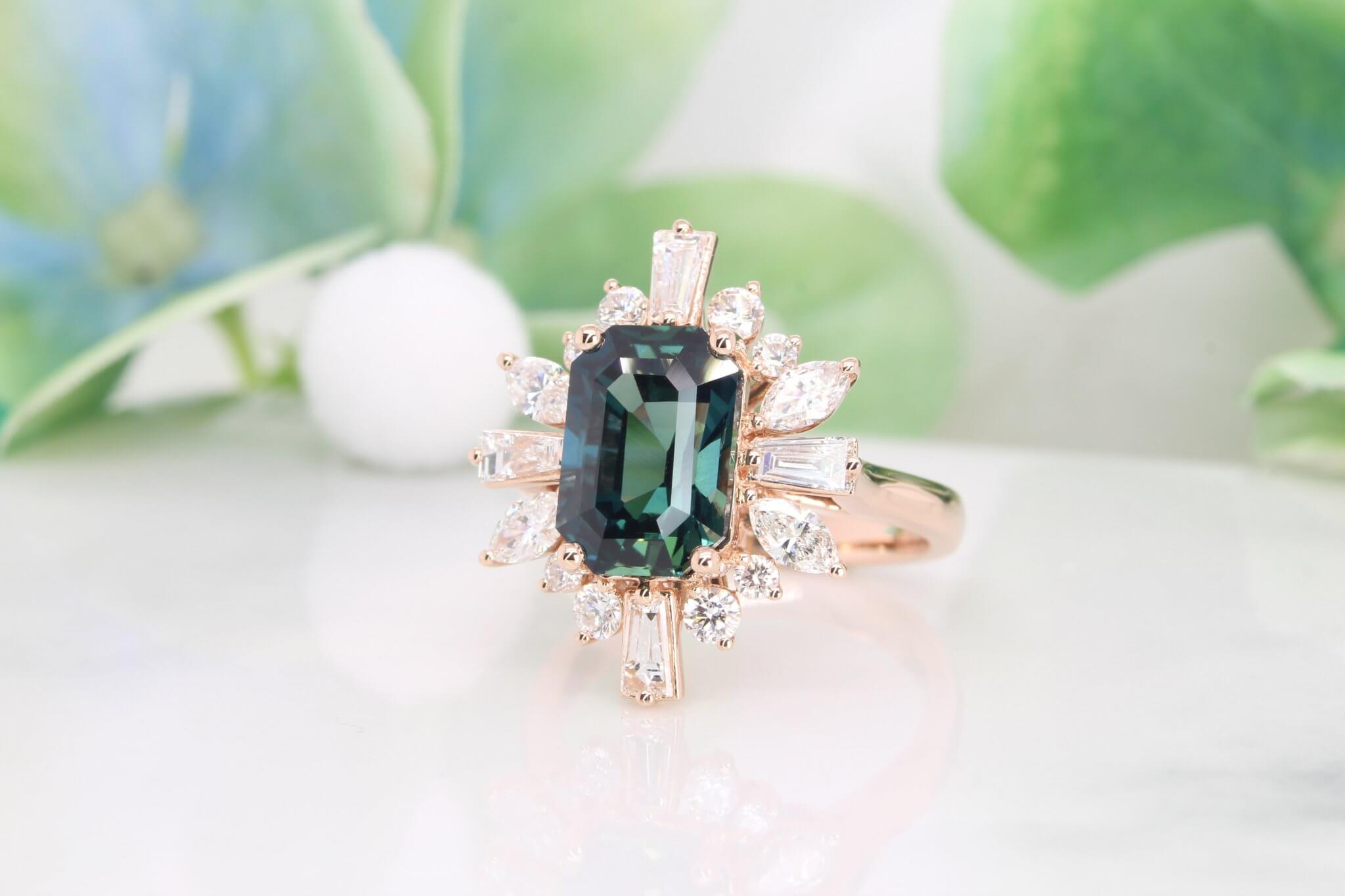 Vintage art deco inspiration
This timeless elegant piece of art deco jewellery is crafted to bequeath an everlasting grin on its owner's appearance. The sparkling diamonds encircling the ring displays a mix of femininity and confidence. The rose gold band of the Ballerina design ring foils its overall appearance with a majestic glow. Be it a princess gown or a chic dress, this customised jewellery definitely makes a befitting choice to complement any attire. 
The arresting design of this exclusive jewellery piece is a rosette of beauty, from time to time you can flaunt whenever and wherever you want! Finally, get ready to embellish your free will with this sterling ballerina ring jewellery.
Ballerina Aquamarine Pendant
This modern ballerina pendant is created with a unique lozenge diamond-shaped aquamarine, drawing inspiration from its captivating beauty. The ballerina design with marquise and tapered diamonds inspired the unique diamond-cut aquamarine. The bail of the pendant was skilfully conceal by an inverted pear shape diamond.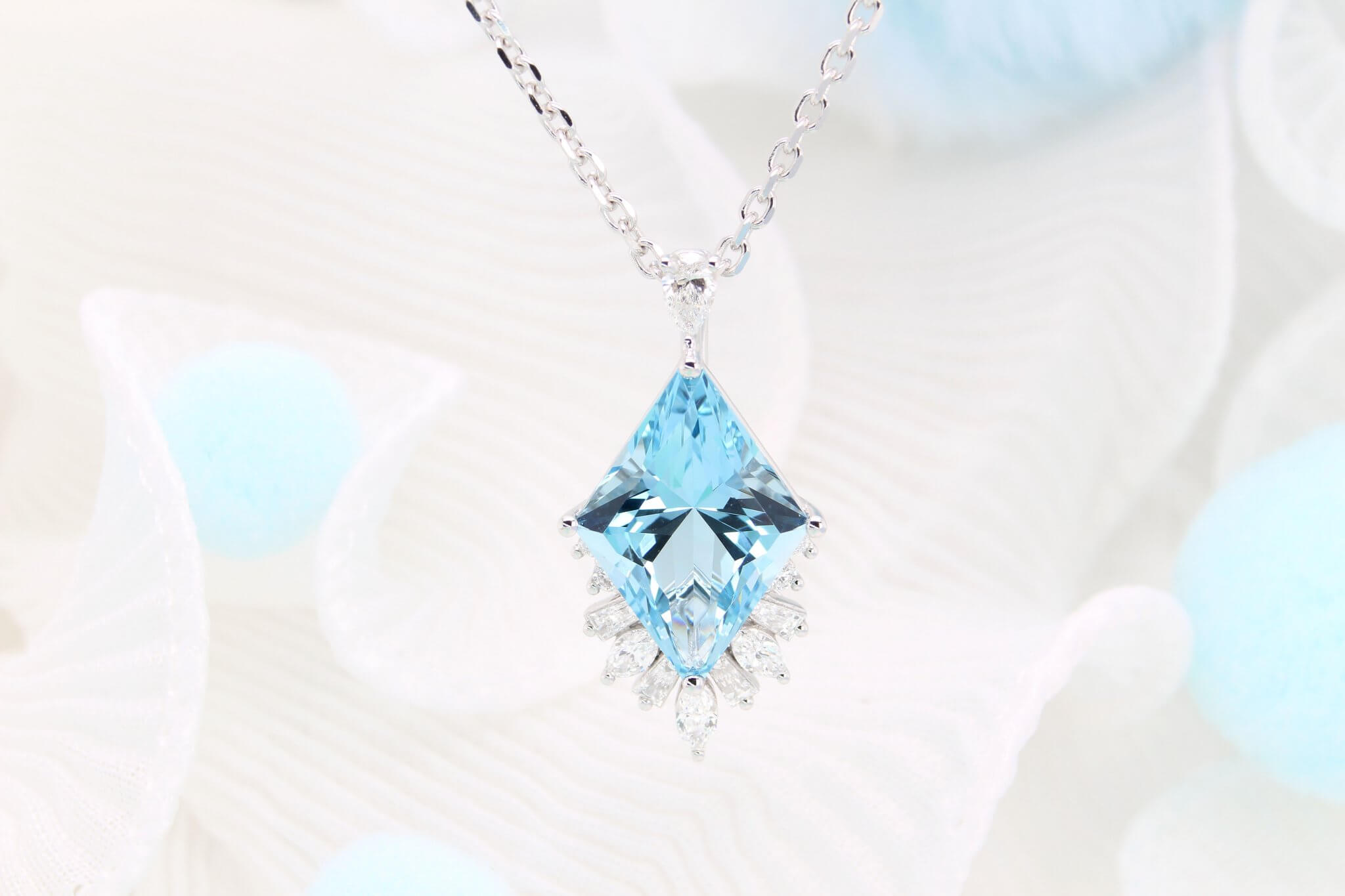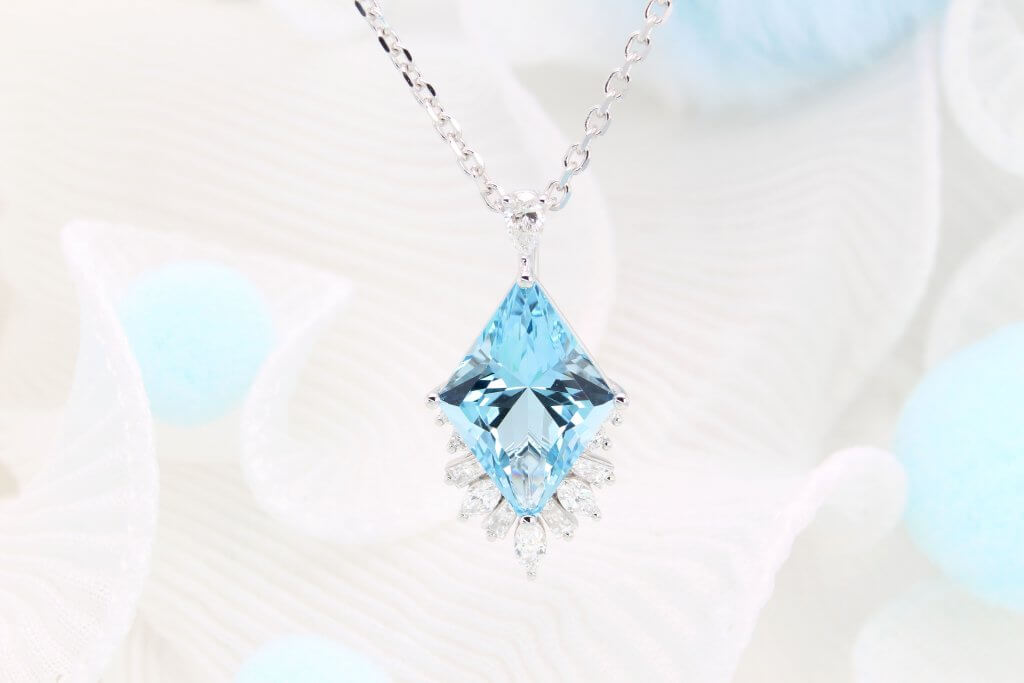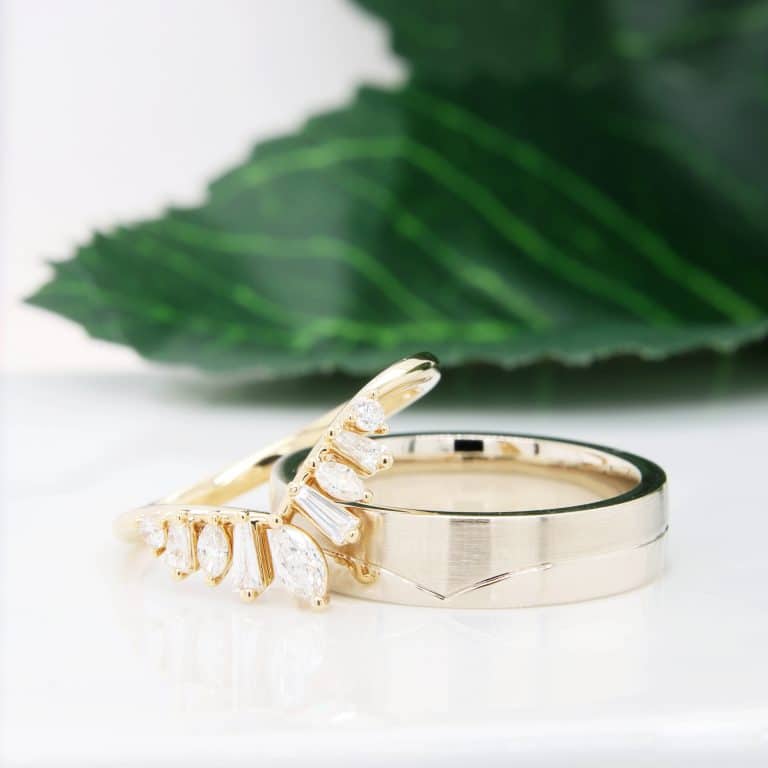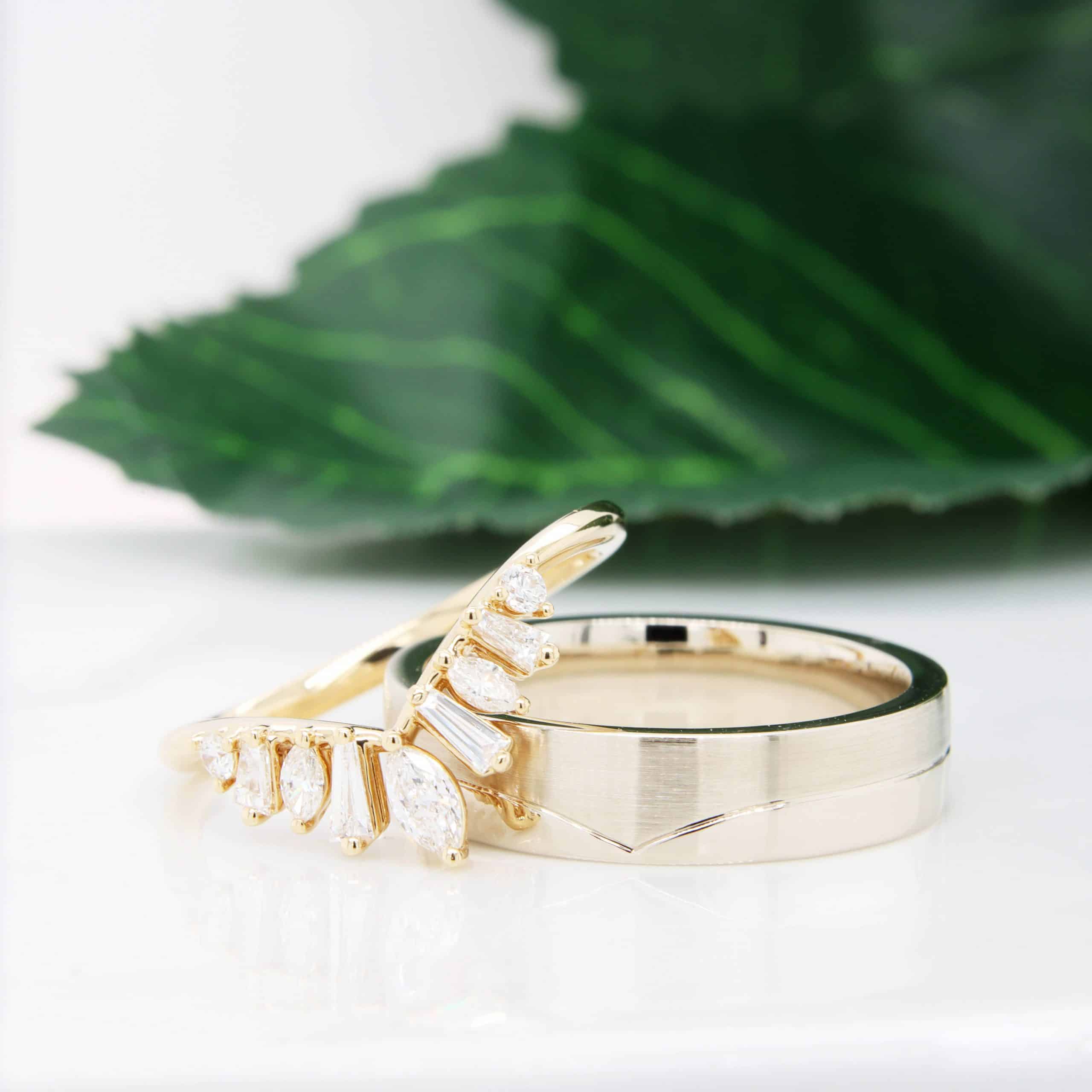 Ballerina Design Wedding Band
The tiara wedding band is a true masterpiece of elegance and grace, embodying the enchantment of a ballerina's performance. Our designers have crafted this wedding band to captivate and mesmerise, drawing inspiration from the ethereal beauty and graceful movements of a ballerina.
At its center, a resplendent fancy diamond takes center stage, exuding a radiance that reflects the sheer brilliance of your love. Fancy diamond in marquise, baguette, and round shapes, meticulously arranged to create a harmonious dance of light and sparkle. Each diamond shape represents a different facet of your unique relationship, blending together to create a symphony of beauty.
Stackable Ballerina Design Wedding Band to Engagement Ring 
Crafted to harmoniously stack and complement the none oil emerald engagement ring. This unique tiara wedding ring embraces the concept of unity and togetherness. The wedding bands, both for the bride and groom, feature a design that draws inspiration from the graceful groove lines of the ladies' tiara. These lines are intricately etched onto the surface of the band with highly-skilled master craftsmen. Creating a visual representation of the everlasting connection and shared journey of the couple.
This tiara wedding ring, with its ballerina-inspired design and exquisite diamond arrangement, symbolises the harmony and fluidity of your love story. While the matching men's wedding band pays homage to the shared commitment and devotion of your union.