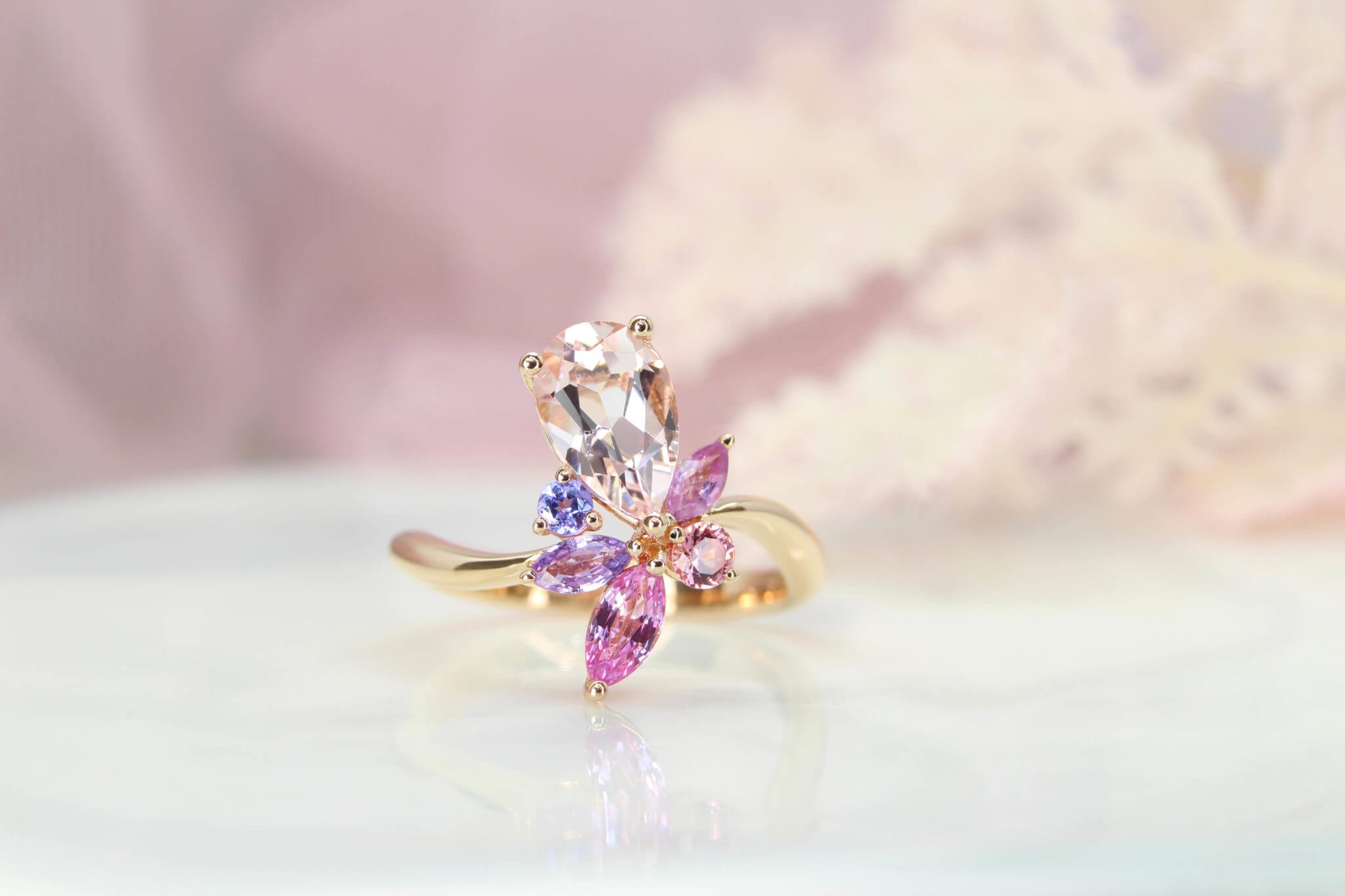 Floral Engagement Ring with Morganite & Cluster Gemstone
This intriguing floral design is surely going to carve an everlasting memory in your life. This engagement ring is uniquely crafted to resemble a flower bouquet. Customised to a natural and floral look, instead of classic solitaire. This floral engagement ring has been custom designed in a rose gold band. During the customise process we listen to both the client's requests and selected Morganite gemstone as the main stone. Morganite catches the eyes of Jessica for its unique pastel shade of pink-orange.
Cluster Floral Ring
With floral inspired design, this glamorous looking cluster gems ring is stunning and captivating from a distance away! The multi gemstones symbolise the couple's loved ones and their journey together, making it a sentimental piece.
Unique Engagement Ring
This glistening floral engagement ring features complimenting sapphire gems that resemble the petals of a flower in shades of violet and pink. The shapes of the petals are marquise and brilliant round. We designed and crafted the bands with a curve, imparting a natural flawless look to the design.
Exudes a feminine look and has a pretty floral arrangement in this uniquely crafted engagement ring. The shimmering colourful gemstones lend a sparkle to the design. We buffed the design to a brilliant lustre. This brilliantly crafted floral engagement ring would make a spectacular accessory no matter what the occasion is.
We designed this floral ring as an engagement ring upon request for the couple. It is the epitome of beauty and style. It is quite different from the classic traditional solitaire ring and speaks a thousand words with its unique styling.    
Despite having a design totally without single diamond, the overall look of this engagement ring look modern and timeless. Natural inspiration for this unique engagement ring makes it one-of-a-kind jewellery that certainly shows the sincerity of the gentleman.