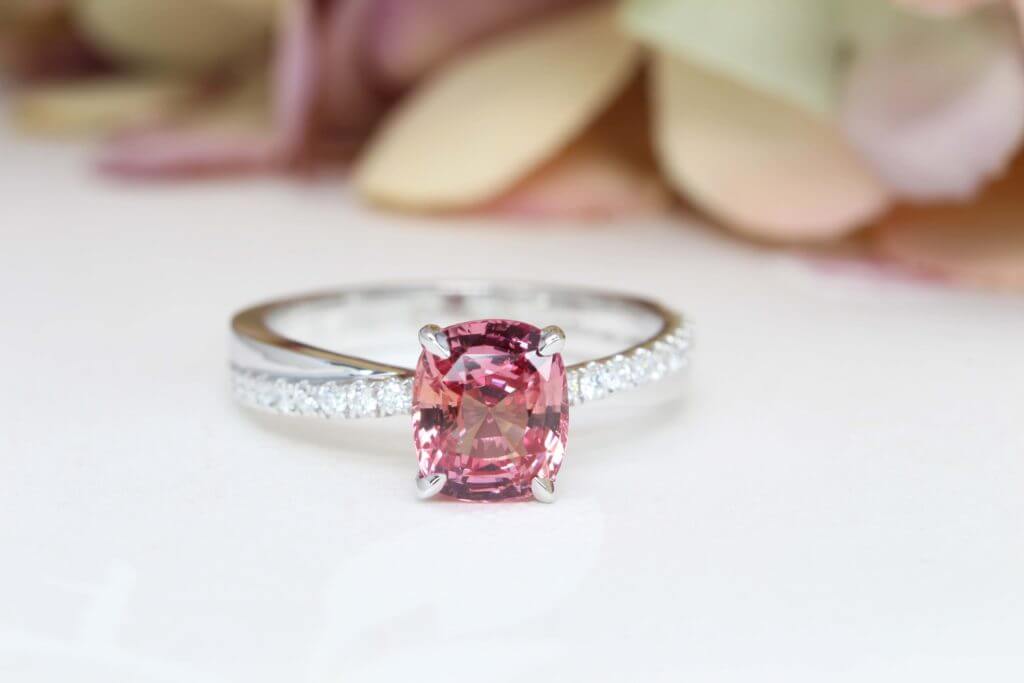 Sapphire Padparadscha – Orangy-Pink Shade
Horizontal Halo & Twisted Diamond Ring with Sapphire Padparadcha
Brilliantly crafted and absolutely breathtaking, this ring features a sapphire padparadscha which is an extremely rare gemstone found on earth. The colour shade featured in this design is extremely sought after and it is not just a single colour shade. It has a mix of pink and orange which is quite a rare find. Soft colour and brilliant sparkle is the key characteristic of padparadscha gemstones. This Sapphire Padparadscha engagement ring was customised with a twisted band adorned with a pave of diamonds. The polished band adds a touch of sophistication to this customised design ring. 
Custom made Engagement Ring
A dainty row of pave set diamonds on the band creates a shimmering statement. The sapphire padparadscha gemstone is truly a showstopper, where it adds a bold splash of colour to this alluring design. The fabulous setting is custom made in white gold to exude a modern look. This truly simple yet unique ring was designed with a horizontal halo diamond below the main gem. This sophisticated ring would make a perfect match for all your outfits. You are bound to attract attention with this bold yet feminine beauty. Lively in colour, this engagement ring is truly a fantastic expression of feminine chic. The little detailing on the band is a brilliant example of excellent craftsmanship.