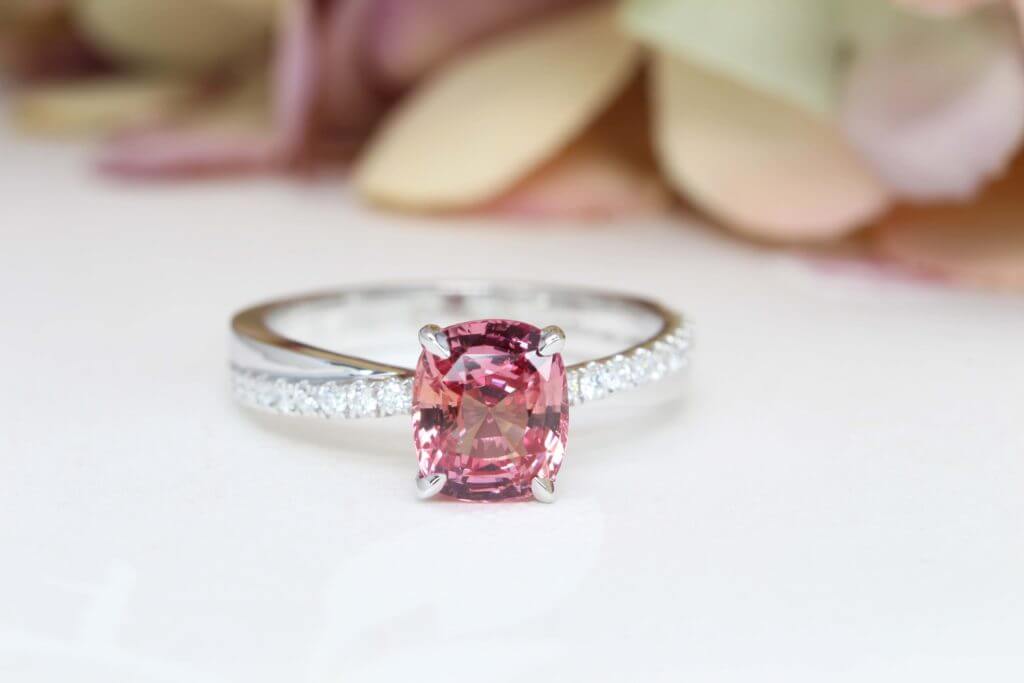 Sapphire Padparadscha – Orangy-Pink Shade
Horizontal Halo & Twisted Diamond Ring with Sapphire Padparadcha
Brilliantly crafted and absolutely breathtaking, this ring features a sapphire padparadscha which is an extremely rare gemstone found on earth. This design features an extremely sought-after colour shade, and it's not just a single colour shade. It has a mix of pink and orange which is quite a rare find. Soft colour and brilliant sparkle is the key characteristic of padparadscha gemstones. At GIOIA, we customised this sapphire padparadscha engagement ring with a twisted band and adorned it with a pave of diamonds. In addition, the polished band adds a touch of sophistication to this customised design ring. 
Custom made Engagement Ring
A dainty row of pave set diamonds on the band creates a shimmering statement. The sapphire padparadscha gemstone is truly a showstopper, where it adds a bold splash of colour to this alluring design. The fabulous setting is custom made in white gold to exude a modern look. This truly simple yet unique ring was designed with a horizontal halo diamond below the main gem. This sophisticated ring would certainly make a perfect match for all your outfits. This bold yet feminine beauty is sure to attract attention. Lively in colour, this engagement ring is also truly a fantastic expression of feminine chic. The little detailing on the band is a brilliant example of excellent craftsmanship.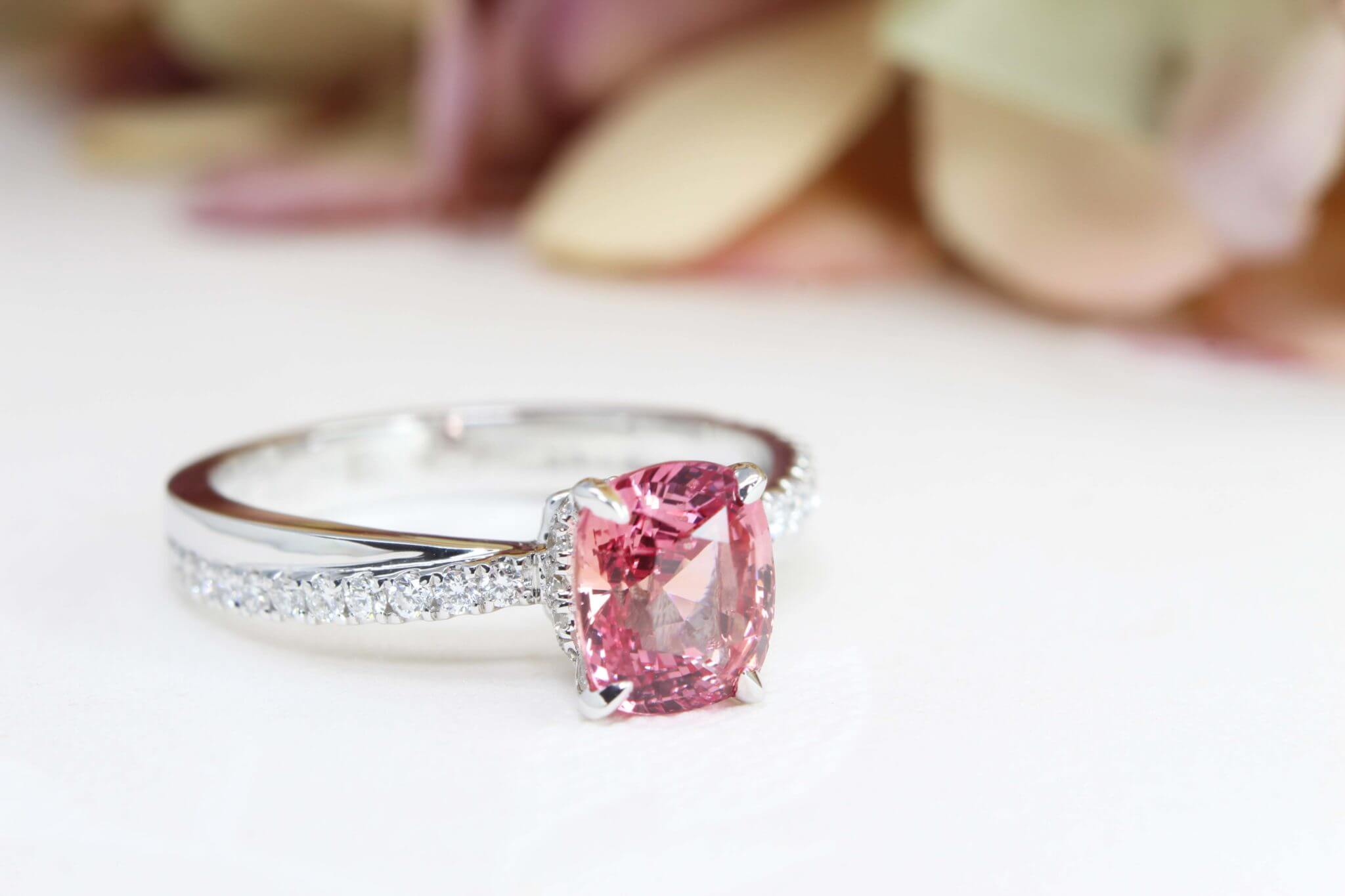 Engagement Ring Consideration
Should you consider sapphire padparadscha as engagement ring?
First of all, sapphire can be an excellent choice for an engagement ring, but whether it's the right choice for you or your partner depends on your personal preferences and lifestyle. Here are some factors to consider when deciding if a sapphire engagement ring is a good choice:
Durability: Sapphires are one of the hardest gemstones, ranked second to diamonds on the Mohs hardness scale. This makes them highly resistant to scratching and suitable for everyday wear.
However, do take note that you would also need take precaution when you are out to the gym or working out. We highly recommend removing your jewelry when you are back home or going to bed.
Colour: Sapphires come in various colours, with blue sapphires being the most popular and traditional choice for engagement rings. However, sapphires are also available in other colors such as pink, yellow, with padparadscha(Orange-pink) being the rarest of all. Choose the colour based on personal preferences and style!
Ultimately, the choice of an engagement ring, whether it's a sapphire or another gemstone, should reflect the recipient's personal style and preferences. It's a significant and personal decision, so take the time to consider what best represents your relationship and what will make your partner happy.