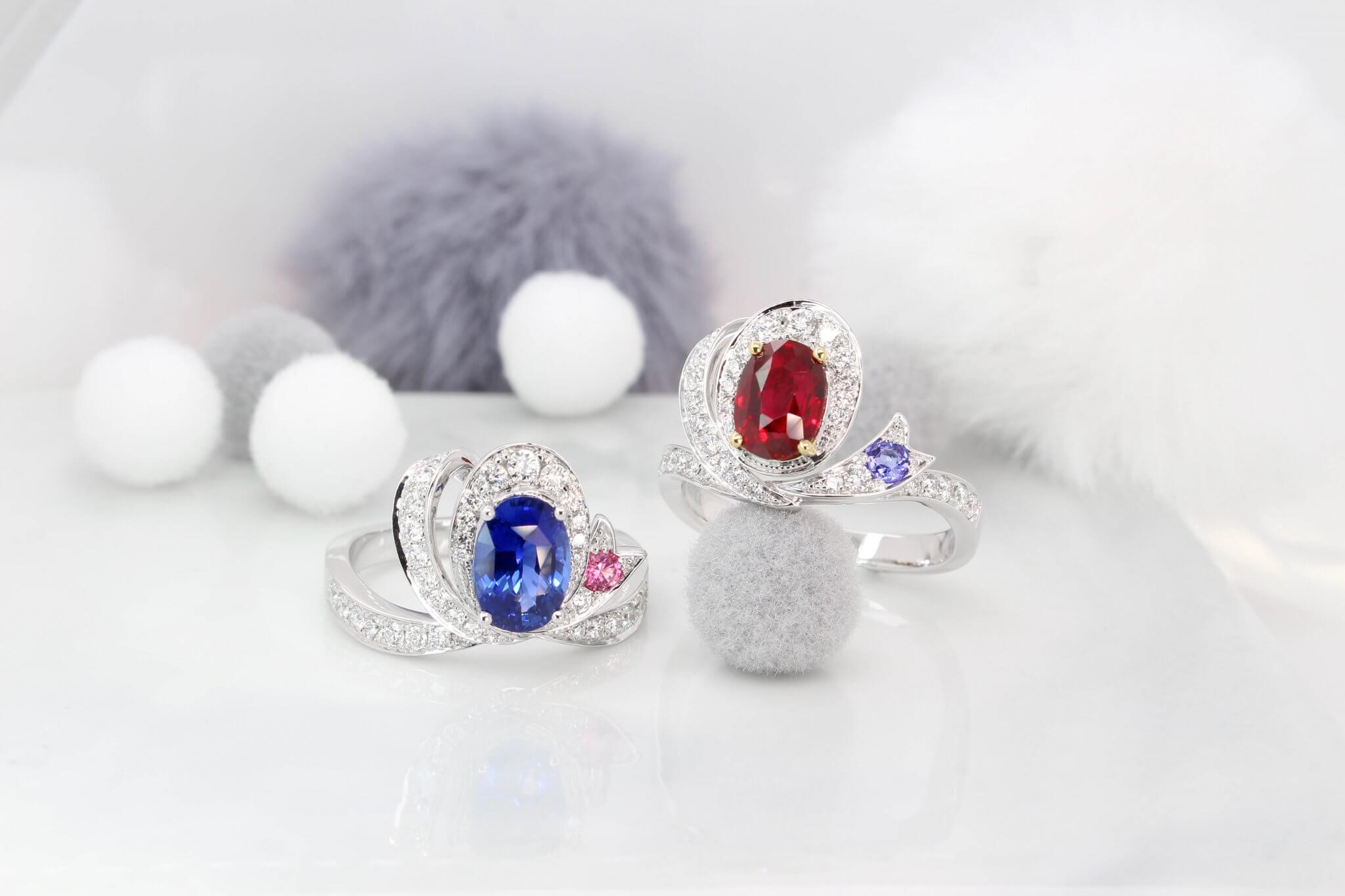 Ruby Pigeon Blood & Sapphire Royal Blue Ring
Are you looking for signature rings with ruby and sapphire? Why not opt for a stellar piece of jewellery to adorn your fingers? The plush looking ruby sapphire ring can make a heart-melting gift. You can find the same combination of gems in another variant of this heirloom jewellery.
Royal Blue Sapphire Ring
Featuring royal blue sapphire the most sought-after colour shade in blue sapphire. The intense blue colour of the sapphire ring adds a royal touch to the intricate design. Strings of sparkling diamonds arranged in loops over the unheated solitaire sapphire gem complement it in the form of a bow. A quaint tiny pink spinel sitting prettily on one side of the ring breaks the monotony of this stunning bespoke ring.
Pigeon Blood Ruby Ring
Finest quality and eye-catching vivid red pigeon blood ruby. The fiery red ruby sits as the crown in the centre of the ring and has a miniature sapphire crafted beside it. Both these timeless gem-studded rings can be passed on for generations to come. You can swear by the cut, colour and clarity of every gemstone used in crafting the ring. Symmetrical and practical, these fine quality rings exuberate style and elegance.
The white gold base gives each of these jewellery pieces a robust appearance, boasting a shape that smoothly glides into your finger. These brilliantly designed ruby sapphire rings represent love and luxury. You can wear them as single pieces or stack them together to form a jeweled band on your finger.
Bespoke Fine Jewelry
Ruby sapphire jewellery for generations to come
These heirloom statement ruby sapphire ring were designed by a lady to create one-of-a-kind jewellery for both her daughters. The jewellery piece can be nothing less than the finest quality of ruby and sapphire. Bespoke design a pair of sentimental jewellery that will never go out of style.
Surprise your beloved wife on your wedding anniversary or gift it to your soul sister or your beloved mother to make her birthday special. This bespoke ruby sapphire ring can make a cherished ornament for gifting anyone on any occasion.