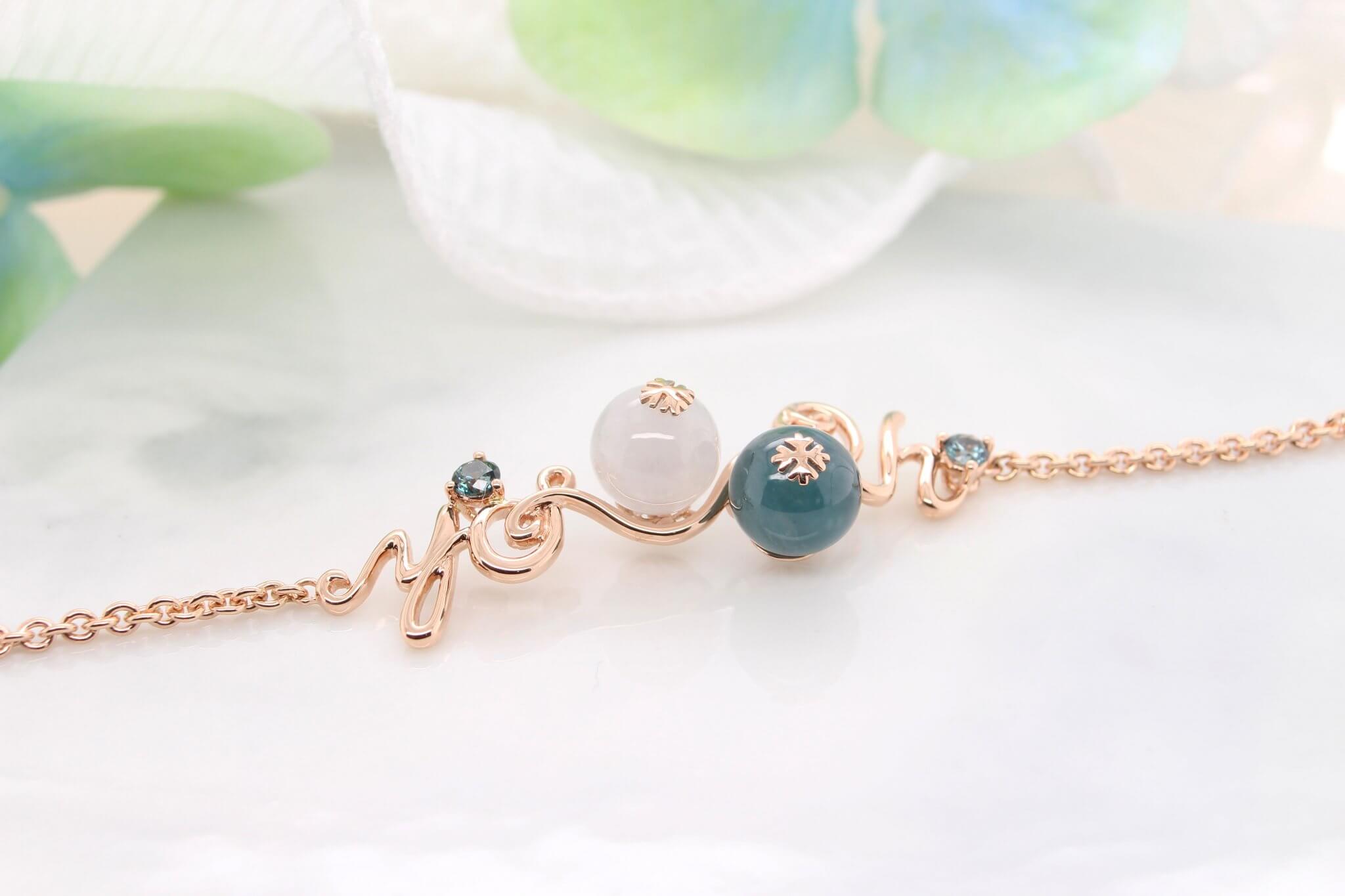 Snowflake Initial Bracelet – Si Dian Jin
Gift your bride-to-be a lifetime of love and togetherness with this uber-cool snowflake wedding jewellery bracelet and pendant. Symbolic of a thousand promises, yin and yang inspired bracelet design is symbolic of the challenges, balance. Last but not least an overall stability that surrounds wedlock. Borrowing from the initial proposal ring design that sported the teal spinel as its centre of attraction.
Si Dian Jin Wedding Jewellery set with Snowflake Inspiration
This bracelet was customised with a touch of personalised detailing. Exclusively to accompany the wedding jewellery as a Si Dian Jin Jewellery. The green and icy coloured jade boasts of their snowball shapes only to enhance this elegant jewellery piece. The rose gold crowns shaped as snowflakes stand out as a bold feature.
Snowflake Pendant – Si Dian Jin
Complementing the bracelet wedding jewellery is the bold snowflake pendant featuring true to its theme. Featuring a cabochon icy jade, the pendant is stringed with snowflakes drizzling love and the spirit of joy. This exceptional one-of-a-kind pendant bring fond memories of romantic dates. Add a whiff of warmth to the cold holiday season with this beautiful pendant. Designed in dual coloured metal, the white gold narrates the snowfall story while the rose gold surrounds it with a snug blanket.
A fine piece of wedding jewellery, the pendant is speckled with multi-coloured gems to match the spirit of this contemporary ornament. The little rounded teal blue spinel and aquamarine marquise-shaped gems adorn the pendant with their arresting charm. With a tier-like appearance, the snowflakes descend in style adding to the elan of this glorious neckpiece.
Modern Si Dian Jin Wedding Jewellery
Traditional Si Dian Jin "Four Touch of Gold", are usual classic 916 and 999 gold. These classic jewellery tends to be much chunkier and traditional crafted design. This modern contemporary wedding jewellery allow the bride wear them as a daily casual accessories. These fashion style with combination of subtle white gold and rose gold design. Additional of precious coloured gemstone bring out the modern character of the bride. With unique personalised touch, each and individual piece of Si Dian Jin Wedding Jewellery is a stunning and custom designed for the modern-day bride.