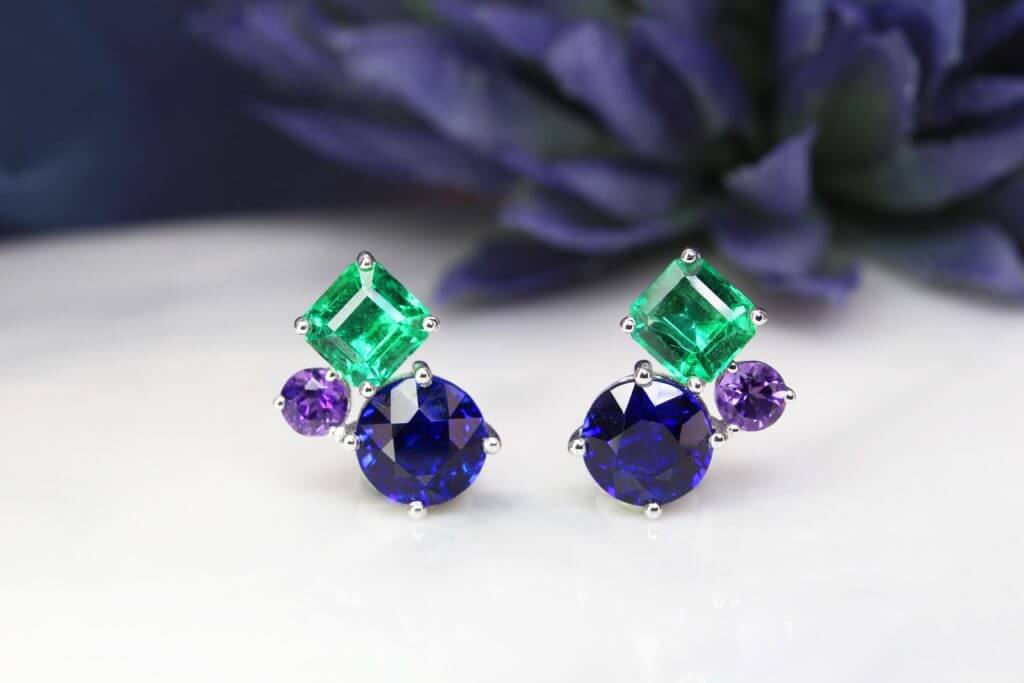 Family Cluster Birthstone Jewellery
Birthstone jewellery designed with special gemstone of each family member
Customised jewellery offers you complete control over your jewellery design. You can pour your deepest thoughts and creative ideas into a design that represents the real you and style. A bespoke piece of birthstone jewellery has an extraordinary message to convey. Not sure what to gift your closest family member for her birthday? A personalised family birth month stone pendant or earring can make the most cherished gift you can give your loved one.
Personalised Birthstone Jewellery
Modern contemporary birthstone jewellery gift for your love ones
Stringed neatly with a cluster of birthstones, this personalised pendant and pair of earrings can make a memorable gift. The stunning jewellery piece encases precious coloured gems such as Ruby for the July born, Mandarin Garnet for January, Spinel for those born in August, Tanzanite for the December born and Topaz for November. A customisable ornament, the individual birthstones can elevate the aura of anyone who adorns herself with these glistening beauties. The vibrant gemstones in vivid hues sitting on the solid rose gold metal piece can complement any outfit.
The variation in the cuts and the size of the precious gems render a flowing charm to the pendant and earrings, thus breaking the monotony of the ensemble. The circular drop pendant and the S-shaped earring can be worn separately or worn together to match your attire. A befitting embellishment for any occasion, it adds an element of chic and trend to the wearer's style. Your recipient family member will love it and can pass it down for generations to come.
Personalised jewellery with additional thoughts, isn't that more special than any other gift for your loved ones?
Birthstone Gems
Certainly, birthstone jewellery has become immensely popular. These are preferred by people regardless of age, gender or race. Each month is represented by one/two unique gemstones. Like the sapphire emerald and amethyst cluster earring, it is custom made for a lady who is inspired to customised heirloom jewellery of her family members' birthstone. If you are new to this concept, then just check the gemstone associated with your birth month. Here are the twelve different gemstones associated with each month. The information provided is as per the official listing by the National Association of Jewellers.
The birthstone can be one of the considerations if you are looking for a proposal ring. However, there could be some restrictions as the particular gemstone might not be her favourite colour, or might not be the hardest gem for daily wear. Below are different gemstones in every month of birth, and the availability of colour shades.
Garnet is the gemstone that represents the month of January. It symbolizes trust and friendship. Though it is not the rarest gemstone available in the market, it does come in unique colour shades. Malaya Garnet (Pinkish Orange) is one of the rarest shades of this gemstone. Tsavorite garnet (Green) and mandarin garnet (Orange) are also desirable for their unique shades.
Amethyst is the gemstone representing the month of February. It symbolises mystery and royalty. This is basically a quartz crystal and has its origins tracing back to Greek mythology. It is a common crystal and features a purple hue. Believed to increase one's wealth.    
Aquamarine (Blue) gemstone represents the month of March. It symbolises purity. It basically belongs to the Beryl mineral species which is the same as Morganite(Pink). The best thing about this gemstone is that the pastel shade would blend well with your everyday outfit.
Those who are fond of jewelleries are very well aware of what diamond gemstone is. It is one of the most loved gemstones and is known for its hardness. It is available in both colourless and coloured form. Occurs naturally in shades of green, yellow, blue and pink.
This gemstone represents intelligence. It is believed to be a royal jewel and is known for its vivid green colour. There are a few stones that feature a tint of blue. Emerald also belongs to the family of beryl mineral species which is the same as aquamarine.
June – Pearl & Alexandrite
Pearl and Alexandrite are gemstones associated with the month of June. Alexandrite is known for changing its colour under different lights. It appears green in daylight and purplish-red when subjected to incandescent light. It appears like emerald by the day and ruby by night. One of the rarest gemstones and even 1 carat can cost a premium. Though pearls are usually common, Akoya pearl and Southsea pearl are organic gems and are quite rare.   
The most exotic gemstone Ruby is associated with the month of July. It is known for wisdom, love and passion. It was preferred by royalty. Ruby belongs to the corundum mineral species which is the same as sapphire. Well known for its vivid pigeon blood ruby red shade.  
August – Spinel & Peridot
Spinel and Peridot are the two gemstones that are associated with the month of August. Peridot features a lime green shade. Spinel is the birthstone for August. Mahenge Spinel has a vivid pinkish red shade and this unique gem have a variety of colour shade range from red, pink, blue to grey.  
Sapphire is the gemstone associated with the month of September. It belongs to the Corundum mineral species and is available in a variety of colour shades. The orange-pink Padparadscha Sapphire is the rarest shade of sapphire and resembles salmon colour. Not forgetting the most desired and popular Royal Blue Sapphire shade.
Tourmaline is one of the most colourful gemstones available today. It is popular for its wide scale of rainbow colours. The neon greenish blue shade of Paraiba tourmaline is one-of-a-kind with Brazil Paraiba being the most sought after shades.
November – Topaz & Citrine
Topaz and Citrine are the two shades associated with this month. These represent energy and healing. Topaz is commonly available in shades of blue. The imperial topaz (Pinkish-Orange to Golden-Yellow) is the most sought after colour.
Tanzanite is known for its unique shade. It basically features blue, violet and greyish shades. It is slightly softer in comparison to other gemstones and hence it is prone to scratches.
Birthstone on the day
Alternatively, if you aren't fond of your birthstone on that particular month, it is not necessary to customise a jewellery piece with your birthstone. perhaps you can look into alternative birthday gemstones based on the day of the week on which you were born.
Monday – Pearl
Tuesday – Ruby & Emerald
Wednesday – Amethyst
Thursday – Sapphire
Friday – emerald
Saturday – Diamond
Sunday – Topaz & Diamond
Family Birthstone Ring
Contemporary Family birthstone jewellery, customised in white or rose gold with different birthstone of the family member. Sapphire as September birthstone, Amethsyt as February birthstone and Moonstone as June birthstone. Customised request by the lady herself on this birthstone ring. Unique bespoke jewellery that holds great sentimental value like a family heirloom piece.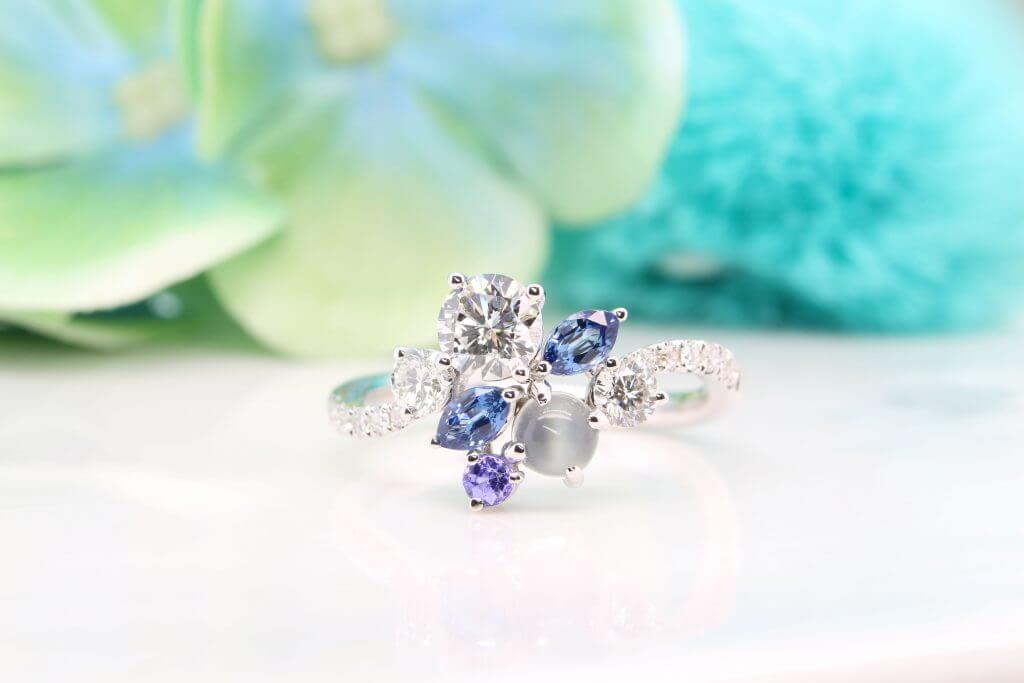 Design to your style, the birthstone jewellery is custom made to daily wear ring and gold preference. This family cluster birthstone ring representing the special birth month of each member and their newborn child.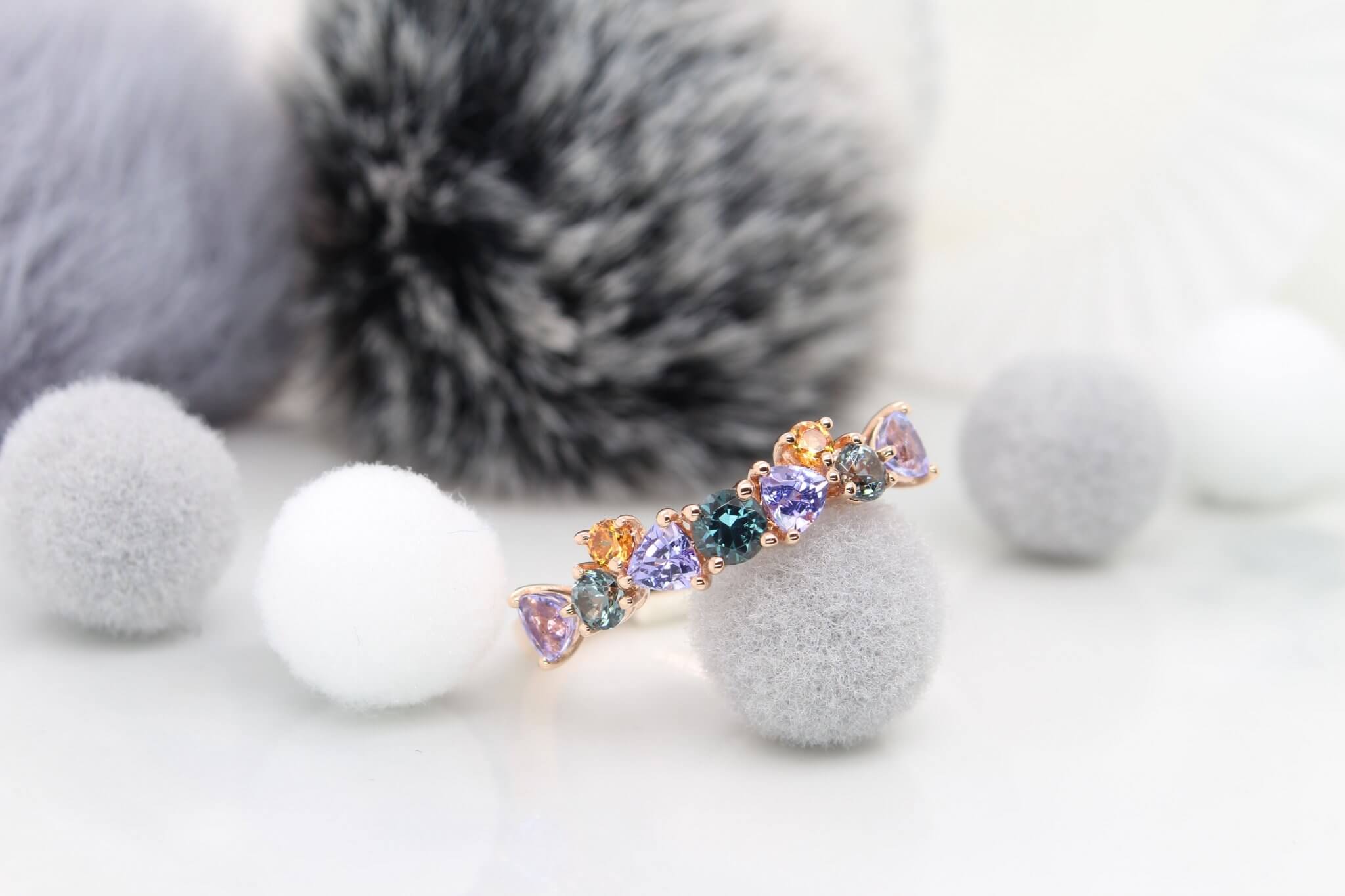 Birthstone Wedding Bands
Create a personalised wedding bands with cross over birthstones of each other. It can even add colours to your existing engagement ring! Definitely make it one of a kind wedding band that both of you own.